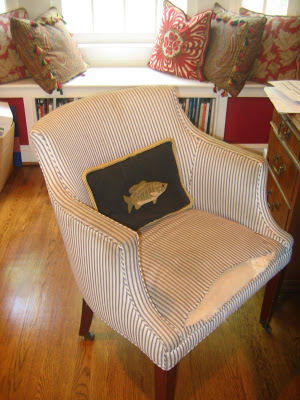 Oh, my. I recovered Mr. Blandings grandmother's chair in this blue and white ticking fifteen years ago. It was in our previous house and the room was the very best navy blue that I copied from my friend, Mrs. Milledge's, dining room.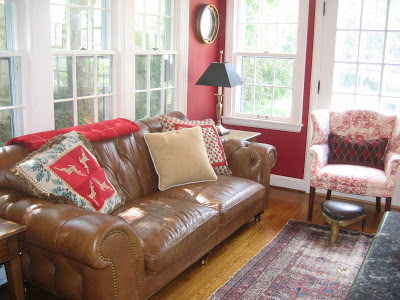 When we moved to this house it wasn't right for the office anymore, but I was busy with toddlers and babies and so she waited patiently for a suitable reupholstery.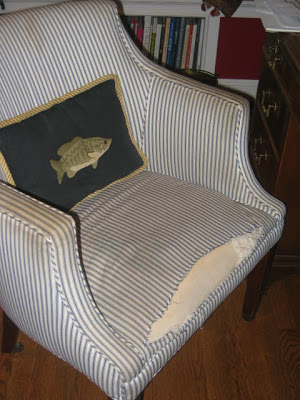 As is often the case, sometimes you have to have a complete breakdown to get any attention at all. So, office chair did the only thing she knew how to do and came to pieces completely. It wasn't her fault; she'd been neglected for years.
While darling Rosie began to tear at her stuffing, I draped any number of tweeds and wools and herringbones over her back, but none seemed to suit. Part of the problem is that in my plan, this room will eventually have antelope carpet and everything was looking a little brown.
And then someone, I think Peak of Chic or maybe Stylecourt, did a post on Chinoiserie and it hit me. Not camel, not brown, not more red. Turquoise, aqua, robin's egg blue.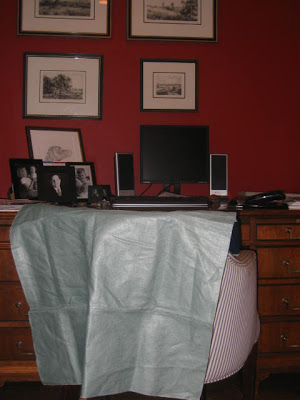 I'd been hanging onto this memo of Ralph Lauren glazed linen for a long, long time. I've moved it here, moved it there, but I think it likes this chair. Red contrast welt, a few buttons, nail head trim. I'm calling the upholsterer this week. She's been so patient, I think she deserves it.