Mr. Blandings and I celebrated our fifteenth anniversary last week. Thank you, but no congratulations necessary; we are just getting started. In a funny twist of fate, a very stylish friend loaned me the movie "How to Murder Your Wife." The movie was made in 1965, coincidentally, the year Mr. Blandings and I were born. My friend, who would scoff at being termed "stylish," though she is, thought I might enjoy Jack Lemmon's apartment in the film.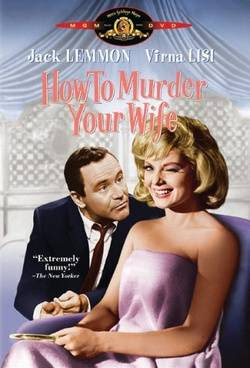 Whoa. I have been searching the internet for a week, and have contacted our local paper's movie critic, whom I adore, but to no avail. I cannot find one image other than the movie poster. I do know the film was shot on location in New York, but have no idea if the interiors were a set or not. Richard Sylbert was the production designer and his career is legendary. Think Rosemary's Baby, Who's Afraid of Virginia Woolf, Manchurian Candidate, and, my favorite film of all time, The Graduate. This is the tip of the iceberg.
Anyway, do I give you advice? Well, do I give you advice often? I insist you rent/buy this movie. Insist. I will do my best to describe it with some visual aids, but you really must see it for yourself. (As a disclaimer, I refer here only to the sets. The movie itself is a mass of un-p.c. tongue-in-cheek, women are the death of us kind of stuff. It's amusing, if you can manage to not over-think it.)
Lemmon's character is a chic, single, swinging cartoonist who lives in a townhouse in Manhattan. (When we see him in his first adventure he is wearing a turtleneck and dark suit, the jacket of which has red lining.) His little slice of heaven is surrounded by new construction which he tries to ignore. The film begins with his butler, Charles, giving a tour of the place.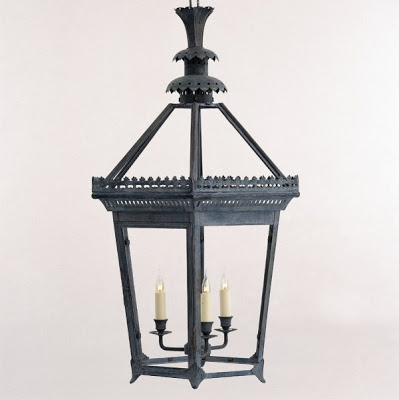 Lantern by Charles Edwards.
The entry is the only room on street level, a classic dream of black and white marble floors. Climbing the staircase with the iron railing you can't help notice the fantastic lantern over-head. Entering the main floor of the townhouse, you are greeted with ebony-stained wood floors, a subtle Empire vignette in the hallway. Zebra rug, leather sofas, big, bold black and white painting over the fireplace.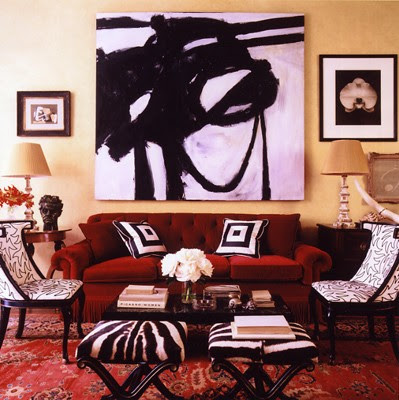 Miles Redd via Patricia Grey – she has done a fabulous week of zebra.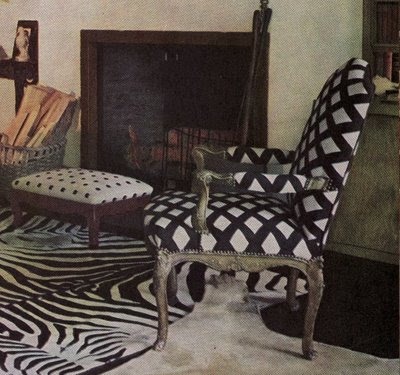 Billy Baldwin via Patricia Grey, by way of Style Court.
Outside is a terrace that would make Dorothy Draper swoon. Trellis and iron, striped canopies; perfection.
The butler's pantry is two long walls of ivory lacquered cabinets trimmed in black.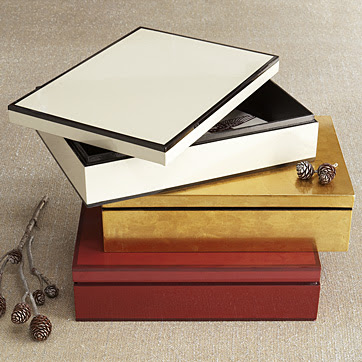 Two walls of cabinets like the box, top. Unbelievable. Boxes, West Elm.
Just to the right is the entry to the master, the doors of which could be by Fornasetti himself.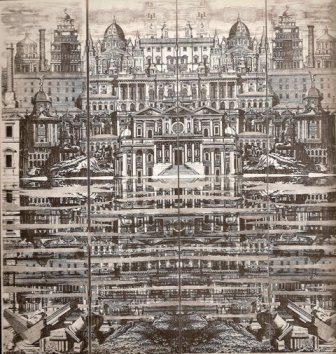 Screen image courtesy of Fornesetti.com.
If you think bathrooms today are loaded with innovation, you will realize how little progress has been made when you see the bath. Travertine floor and ceiling, sliding doors encasing the sunken marble tub/shower with temperature control and multiple jets.
The bed itself is some kind of brass extravaganza. A mis-step in my book, but when a thing like this show up in a spot like this it makes me question my own taste and not the tastemaker's. Barcelona chair in the most amazing buttery-camel leather and the most hilarious rickety TV stand and TV that will remind you of your grandmother's. Pickings must have been slim in this area.
The butler's room is quintessential English "man" room. Simple, classic, phone by the bed to be on the ever-ready.
OK, he's a cartoonist, remember? The third floor is his studio. Two levels with soaring vaulted ceilings.
The movie itself is a delight if you like old screwball comedies. Verna Lisi plays the wife in question. The only issue Mr. Blandings had with the plot is why Jack Lemmon wants to get rid of her; she's gorgeous, wants to fool around all the time, is an amazing cook and speaks no English. "So she's the perfect wife?" I coyly asked. "No, darling, I have the perfect wife." I can't wait for the next fifteen years.