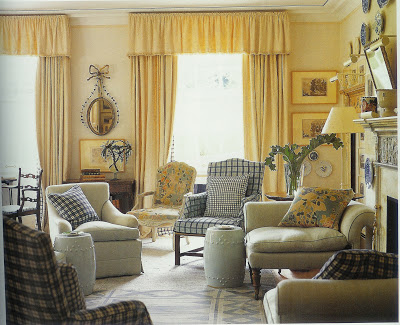 One of the first design books I owned was Interior Inspirations by Roger Banks-Pye of Colefax and Fowler. To say I owned it would be an understatement. I devoured it. Banks-Pye used the level of detail I aspire to.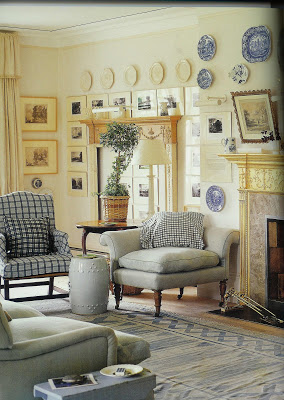 If you ever think something is too much trouble, not worth the effort, or no one will notice, refer to Banks-Pye. We are talking about a guy who colored checks onto his match book covers.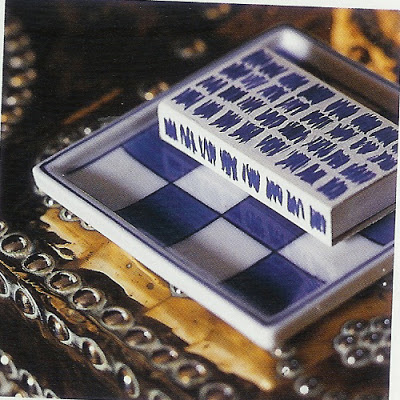 He was an outstanding designer who painted doors with three or four shades of white to subtly bring out their distinct details.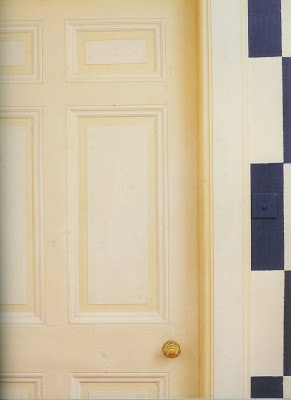 A gentleman with such a big personality that one of his tutors recommended the stage; he felt Banks-Pye's character was unsuitable for design. He began sketching as a child, and because of this talent was able to communicate the details of his design through his drawings.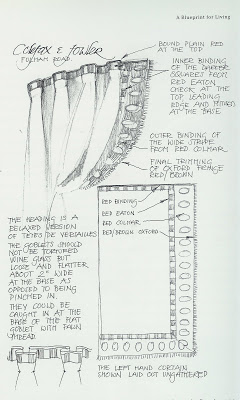 I've picked up this book with intent, in despair and in boredom and I rarely rise from the chair uninspired. The fillet around this library wall led to a similar treatment in a friend's dining room.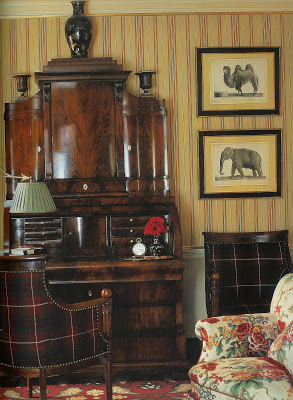 The treatment, below, would be an easy, if time-consuming do-it-yourself project. Banks-Pye painted the walls oxblood then tore the squares of parchment to give them an unfinished edge. (Nick Olsen showed something like this yesterday with a tea paper look-alike.)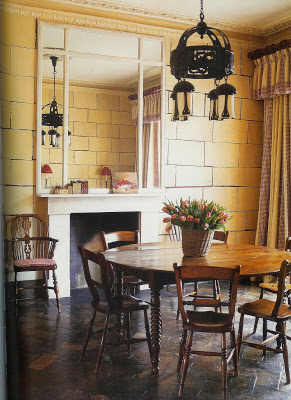 This is Valentino's guest bath. I love the high/low tension of the ticking on the walls above the intricate and hand painted paneling below.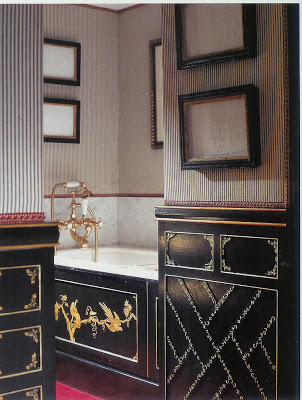 And while he clearly had the traditional Colefax and Fowler, English country thing nailed, my favorite work of his was his own home.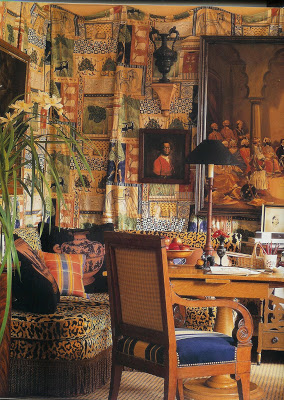 While he believed that if you could not afford truly fine things you could make a great statement with a lot of "rubbish," his own rooms are like jewel boxes. In his drawing room he used tea-stained and drip-dried fabric that he tacked to his walls.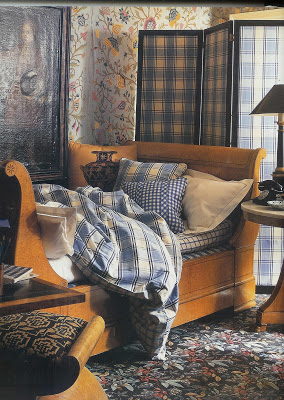 His bedroom is a quintessential example of this work. This room is riot of pattern and color, but does not seem manic. He deemed the chintz too feminine for the windows so pasted it to the floor. He often used the navy and aqua combination, here wielding his tacks again to affix the crewel to the walls. The blond wood, the symphony of pattern, the pottery and that essential touch of black tell us this was a man comfortable in his style. I don't think we would have been surprised by him if we had had the chance to meet him; I think his rooms tell us something about him. No show house, no hotel room, no flipping intended here. These rooms are so real.
Roger Banks-Pye died in 1996 at 48. All images Interior Inspirations, Roger Banks-Pye.