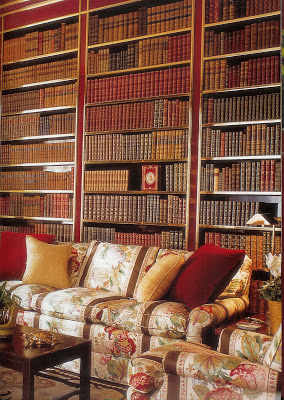 Being a bit of a drama queen, I do love a red room. I know the room, posted below, has made the rounds a bit, but it's quite good. The high shine of these walls is enviable and the dark mouldings are striking.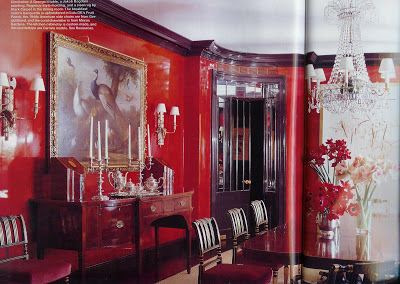 Elle Decor, December, 2007, design my Brian MCarthy.
From the Blanding's archives comes this little Bill Blass number. His own home on Long Island, Beene said he wanted to "bombard myself with color." Mission accomplished.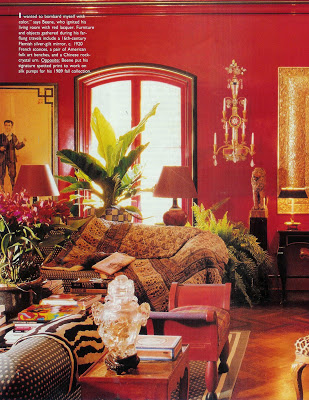 Beene said he had always been drawn to neutrals, but suddenly needed color. To his great surprise, he found red "neutral" as well. "You can put red with almost anything …and it works."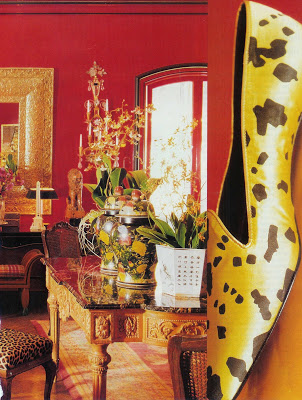 House and Garden, December, 1989.
Especially if your "everything" includes a 16th century Flemish silver-gilt mirror, French sconces, American folk benches (a pair) and a Chinese rock crystal urn. And the shoes? Oh, yes. The silk pumps are fabulous neutrals as well.
Farrow and Ball, The Art of Color, Maine cottage designed by John Lyle and Mark Umback.
Equally lovely, but entirely different in tone, is this room from the new Farrow and Ball book. Just as red, just as shiny, this red reads differently. Classic and restrained, it highlights the gilt of the 19th century American bulls eye mirror and the creamware rather than taking center stage itself. This seaside dining room in Maine would certainly make you want to linger over your clam chowder.
You still have time, you know. If you don't have to mess with trim all you need is one full day without children. Living room? Dining room? Study? If your mother-in-law gasps, you can smugly reply, "What? It's neutral!"
Image, top, Mrs. Vincent Astor's library, Albert Hadley, The Story of America's Preeminent Interior Designer. And one of my favorites. But, maybe I've mentioned it.