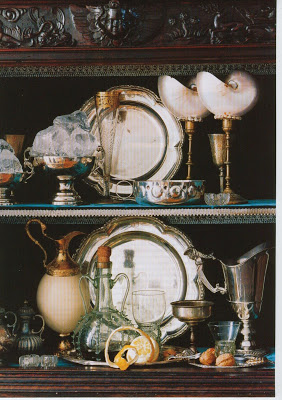 House and Garden, September, 2007.
I'm sending out a bit of a trend alert. I somewhat ignored all the body parts, mostly hands, that I was spying this summer because I thought they were, well, contrived. But this trend has piqued my curiosity as it's raised my eyebrow.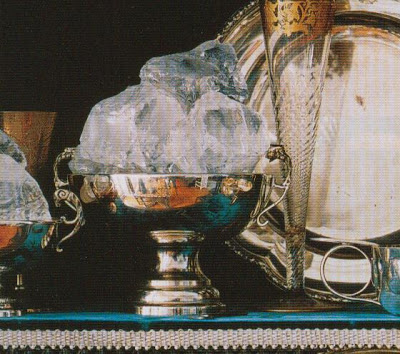 You see, I really like Rock Crystal. A lot. And I know it's not anything new, but it's popping up in so many lay-outs lately. I'm worried about Rock. I'm afraid he might become a cliche. Like the Coral sisters, Red and White.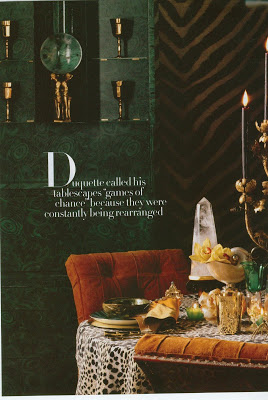 Bazaar, Fall 2007 supplement. Styled by Douglas Little.
I'm wondering if it's the convergence of two forces. Could it be possible that Rock is the off-spring of Ms. Wearstler, wee of frame but mighty of influence and exposure, and Mr. Duquette, a big personality in his own right, who is enjoying a bit of a resurgence?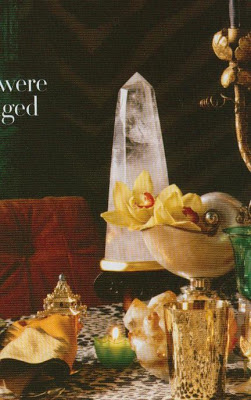 One of the best parts of the substance is that it is so appealing in so many forms. Big, chunky rocks, sleek obelisks, or as utilitarian object, like the lamp below.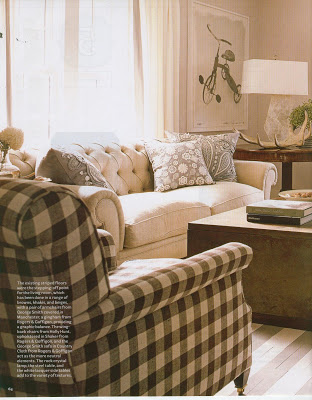 House Beautiful, January 2008. Design by David Mitchell.
Another thing about Rock, he can go anywhere. Dress him up and put in him silver and he is urban and urbane. Settle him into a rustic beach house or cabin and he takes on an easy-going organic air.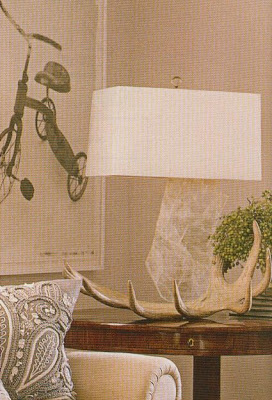 He's not the jealous type, either. He can hang with other trends and not feel threatened, be it antlers,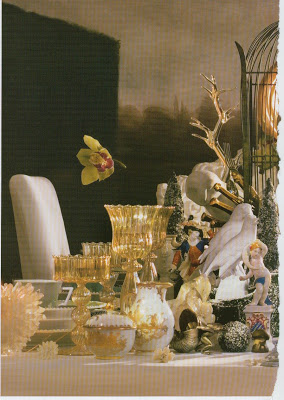 House and Garden.
or blanc de chine,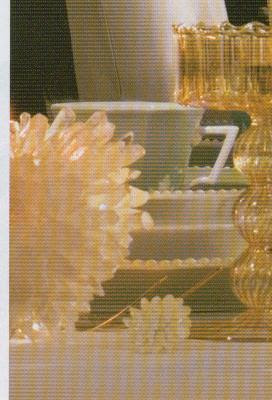 or suzanis. He's happy to share the spotlight. He might be the George Clooney of trends.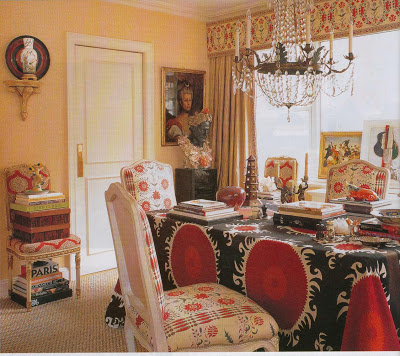 Elle Decor, November 2007. Design by Alex Papchristidis.
I should caution you about one thing, though.
As lovely as he is, as he gains notoriety, his price will go up. Way up.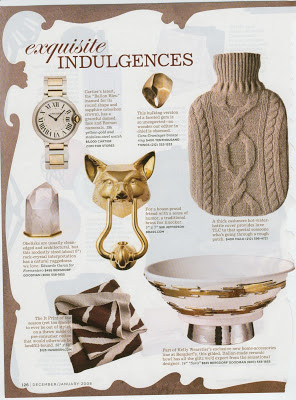 Domino, December/January 2008.
When I was in Cascade, Colorado this summer, at the foot of the hill that has been Mr. Blandings's family's vacation home for five generations, there is a little spot called The Rock Shop. No, I'm not kidding. Anyway, I've been going to this little retreat for fifteen years, give or take. Every year I say, "Let's go to the Rock Shop." And every year Mr. Blandings says, "My grandmother used to call that the Gyp Shop." Every year.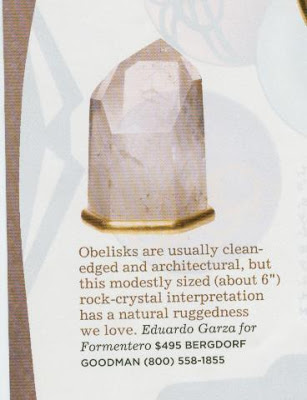 But this year, in a driving rain, I gave each boy five dollars and down the hill we went. I hate to say it, but sometimes Mr. Blandings doesn't know what is good. Baskets of beads, arrowheads, geodes. All in all, a wonderful spot. But the point is, in the back room (Where you have to be at least 10 years old to go. Still not kidding.) there are rock crystals bigger than my head for under $200. Bigger. Bigger than Frankenstein's head. All I'm saying is, if you go to Bergdorf's and buy a measly 6″ rock crystal squatty obelisk for $495? Well, the elder Mrs. Blandings might have had a name for a place like that.