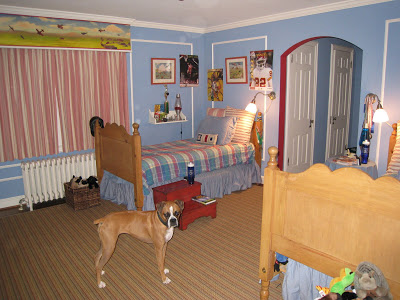 Bewildered Rosie stands on what has revealed itself to be carpet.
I mentioned in a
previous post
that it's possible that children's rooms are rarely photographed because it's too much trouble to clean them up. I might have been projecting.
A local company is coming today to shoot an ad in the Dream House. When the scouts arrived, the downstairs was pristine. "Did our contact tell you we'd love to see the boys' rooms?" Um, no. But that was fine. Only they were messy. I mean really messy. Boy messy beyond anything you can imagine.
As they were snapping away and I could literally hear my mother spinning in her grave, one of the scouts said, "Oh, it's so real!"