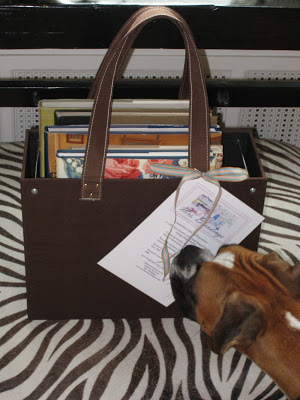 In case you were wondering, I did include the fifth book in the donation to
Dining by Design
. When it came right down to it, even Hadley, Brown and Radizwell were not satisfying enough to override the deep-rooted guilt of my childhood.
It arrived on Saturday and I flipped through it quickly before dashing out the door to set up for the auction. Oh, the sacrifices one makes! How I longed to sit and pour over each and every page. But duty called.
The chaos temporarily stored in the back of our cars, we headed home exhilarated and exhausted. As I wandered through the living room to the office to check my email, a manic habit that I have formed over the last six months, look what caught my eye. Mr. Blandings, who should have been receiving gifts from me to compensate for the neglect and distraction, left me a little love token on the mantle. Heaven help me to deserve him.
Weary and bleary-eyed the next morning I opened my other present. van Essche's gift does not disappoint and even Mr. Blandings peered across the breakfast table at the kitchen section.
But wait, what's this? Sleek and stainless, a double Thermador oven