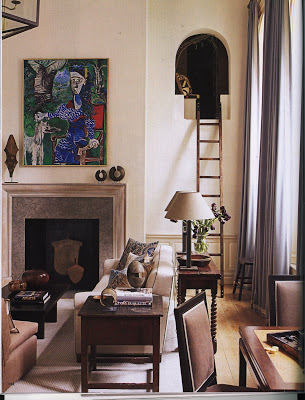 I've tried to steer away from posting entire layouts from current publications, but this particular spread in the June issue of House Beautiful could not be ignored. I don't know why I'm drawn to spaces so much more neutral than my own. This room, and most of the apartment seem perfect to me. The balance of the color, the mix of styles, the confident hand all creating a lovely but not contrived home.
I'm giving you a peek of the bedroom as well, because when I saw it I closed the magazine, got out of the chair and hollered, "I'll be back! I have to take some pictures of chest-on-chests." To which Mr. Blandings said, "Huh? Wait! What?" Too late, I was off.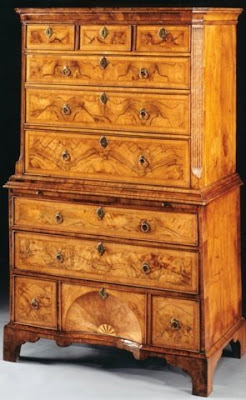 On my way up the street (past George's shop) to drop into Charlecote, I passed one of Mr. Blandings's friends. "Can't stop, on my way to see a chest-on-chest." "What are you doing to your chest?" he replied, brow furrowed.
Charlecote is right on the corner of this charming block. The pieces are exquisite, but the prices are well outside my reach. I go in to visit with the owner and train my eye a bit, which he knows and doesn't discourage. I was happy to hear that the near-pair of 18th century George I chests, above, had actually been placed. I hope they enjoy their new New York home; I will surely miss stopping in to see them.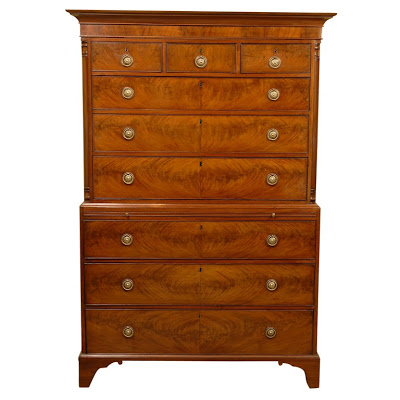 If you are not "in town" there are a handful of great pieces on 1st dibs. The 18th century mahogany piece above is from England. I think the reflecting flame veneers are particularly appealing. The honey color allows a piece of this size and heft to not appear so heavy.