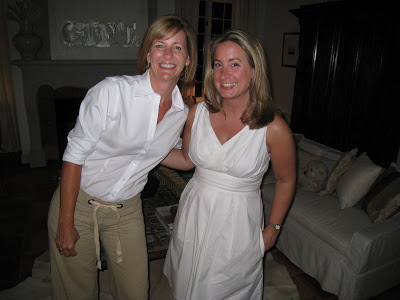 Of all the wonderful things blogging has brought me, the introduction to creative and talented people is the most thrilling. What a treat Saturday night to be included in a dinner in honor of Heather Clawson, blogland's own Habitually Chic.
It was a lively crowd, and HC has done a much better job than I would have capturing the
evening
. I'm thrilled that Kansas City made such a nice impression; now you will know I'm not on the take from the Chamber of Commerce. (I'm not. Really.)
My editor, Zim Loy was a gracious and lovely hostess and we were all treated to the magic of her culinary cohort, Merrily Jackson, who is aptly named. The highlight of the evening, besides the sparkling conversation, was Merrily's dreamy coconut cake. Even if you don't think you like coconut, you'll be begging for a second piece.
Miss Merrily's Heavenly Coconut Cake
1 18.5 oz box yellow cake mix, the kind with pudding
3 eggs
1 c. whole milk
1/3 c. vegetable oil
Frosting
2.5 c. heavy whipping cream
1.5 c. sour cream
1.75 c powdered sugar
1 7 oz. can Baker's sweetened coconut
Prepare cake according to package directions, substituting milk for water. Bake, as directed in two round cake pans. Cool and split each layer, making four thin layers. Prepare frosting by whipping cream and sour cream together until soft peaks form. Whip in sugar, then stir in most of the coconut, reserving about a quarter cup. Frost top of each layer, stack and frost sides. Sprinkle reserved coconut over top. Serves 12.
Can be make a day ahead.
Mrs. Blandings, left, Habitually Chic, obviously, right. Recipe originally printed in Spaces Magazine Oct./Nov. '06.