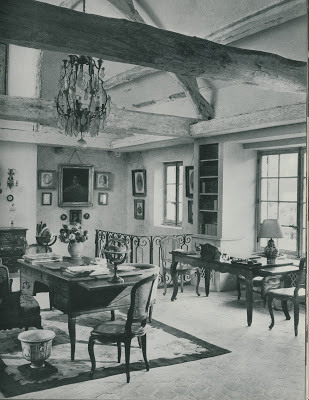 Not long ago, Patricia van Essche sent me a present. I do love presents and I keep going back again and again to admire this one. House and Garden's Complete Guide to Interior Decoration, Sixth Edition, 1960 is a treasure trove of timeless rooms. The book is beginning to fall open on the page with the image above. The section is titled "The country look: a union of elegance and ease." Many of us aesthetically focused folks quest for those things that are a union of elegance and ease. We can certainly see why the editors chose this room to illustrate their point.
The aforementioned flock of lightly scaled chairs.
The rug in the photo is an Aubusson, but that has never been on my hit parade. The Samarkand above appeals to me more.
A little more bling in the lighting.
And the cool, chalky terra cotta tile for the floor. You could stick with the pink plaster or you could go with a different shade. Hmmm….what about a lovely shade of yellow?