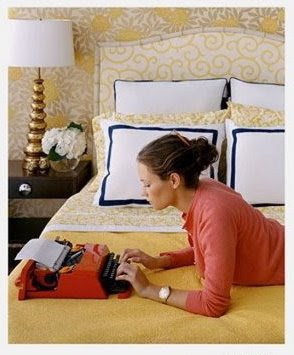 A milestone of sorts. My first post is dated August 6th, but that must have been the day I started working on it. At the time, I was unaware that one could modify dates and time. The plan, if you could call it that, was to publish on my birthday. I don't know why. And I didn't, I actually published the day before my birthday for no known reason. A year ago today.
I sent an email to
Courtney
,
Jennifer
and
Megan
entitled, "I'm up." Courtney and Jennifer posted comments within two minutes of one another on the blog and Megan emailed immediately and said, "Let me know when you are ready for me to let people know." She
posted
about Mrs. Blandings a couple of days later. They were my top three bookmarks then and they are my top three bookmarks now, but, oh, how my list has grown.
Sometimes people ask me how it's done or how I find the time. The how it's done is easy, a monkey could do it (if a monkey could read.) If you are curious, log onto blogger.com and the system walks you through the entire process. (I'm sure typepad is the same.) You don't even have to make it available to other folks, you can keep it all to yourself if you like.
The funny thing about finding the time is, I have always done the stuff that you would call the "work." Tear sheets and resourcing and researching and reading. I've been doing that for years. The fun of blog reading was finding other design crazies who do it, too. The other part, the writing, as it turns out is pure joy; I simply cannot imagine life without it now.
I can't believe it's only been a year. You have no idea how grateful I am that you stop by and visit. It's such a gift. And for that, I say, "thank you."
I do not have an inspiration board, only because I don't really have a spot to put it. If I did, and I could only choose one image to place upon it, it would be this. A Kate Spade ad from several years ago. This image sums up all the good stuff for me. Note the chinoiserie headboard, the Osborne and Little paper, Asuka, has long been on my hit parade, the lush blooms and a touch of modern in the table. The contrast on the pillowcases is actually navy, but if I squint my eyes just a touch it looks like black grosgrain ribbon. The vintage watch, the inspiration for my fifteenth anniversary gift from Mr. Blandings because I adored the clean whiteness of the face and the slashes instead of numbers and the way the face itself spanned the width of her wrist; I realized when I pulled it out again that I had, unwittingly, procured a similar band. And she writes. If only there were a touch of that smudgy turquoise it would be perfection.