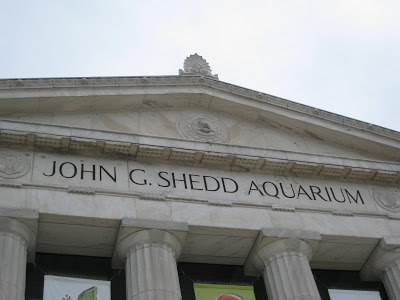 One of the great, mutual joys of visiting Chicago was our tour of the Shedd Aquarium. The middle Blandings boy has been an ocean enthusiast since he was about two-and-a-half. A nature lover at heart, he was the one who entered our bedroom at 6 a.m. one day to report, "There's a bat in my room." There was. When I asked Mr. Blandings later if he was skeptical of the assessment he gave me a level look and replied, "No. Because it was Ben."
Design began in 1925 for a world class aquarium. Ernest Graham of Graham, Anderson, Probst & White took the lead on the project. Graham was part of a movement of city leaders to make Chicago, "The Paris of the Prairie."
Shells, sea horses, crabs, fish and octopuses adorn door ways, walls and light fixtures.
I cannot think that it is a coincidence that the sea-foam green marble of the dado mimics the ocean.
The intricacy of the design is a marvel. The attention to detail astounding.
But I do. Beyond that, I wish I could communicate with those giddy ghosts who haunt these halls, designers who marveled at the freedom to create and the resources that were available to allow them to do so.
Ignorant of how architects work, I have no idea if Graham would have been involved on this level. Who received the job to go back to his drafting table to design the lighting? The thrill of the task would surely have sent me to the ladies' room to put my head between my knees.
The thing is, this building is a monster, even without the later additions. We are not talking about a couple of clever mosaics in the entry; the wonder is everywhere.
The classic forms of the columns and friezes clearly keep the whole thing from tipping to kitsch.
A project like this in nearly unimaginable today. The Shedd opened just following the stock market crash in 1929.
You can feel them here, those men who committed to making their Midwestern town a destination.
Graham's firm designed some of the greatest buildings in Chicago including the Field Museum, Union Station, the Museum of Science and Industry, the Civic Opera, the Wrigley Building and the Merchandise Mart.