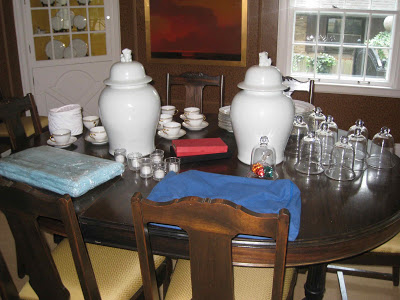 Would you be worried if you were throwing a dinner party for twelve people with someone and you showed up at 5:30 and this was as far as she had gotten on the table?
Fortunately for me, my co-host is lovely and unflappable. She and Mr. Blandings had divided the cooking duty and the menu was in tip-top shape. Occasionally, during the week, she'd ask, "What are you thinking about the table?" "I'll know it when I see it. It's evolving." But it wasn't, really.
The weather in Kansas City has been unbelievable all week so we agreed that dining outside would be a treat. A few years ago Mr. Blanding's family planned a 50th birthday party for the eldest sibling. When we went to meet with the event coordinator he showed us two colors of blue tablecloths, the one below and another, deeper blue. We agreed the other blue was best for the event, but when the planner left the room I clutched Mr. Blandings's sleeve and said, "I know I said I wanted to be cremated, but now I don't; I want my casket lined with these tablecloths. I need them for eternity." Decades old, cotton that feels like silk, washed dozens and dozens of times with care, their hand is indescribable.
It was a perfect evening before it even started.