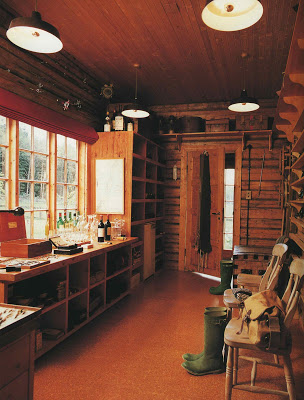 Dear Mr. Blandings,
To: Members, Fontana Farms Duck Club
From: Mrs. Blandings
Re: The Benefits of Good Design
The tackle room is simply charming. The rustic, industrial lighting, cubbies for supplies and a well-stocked bar would surely be a welcoming sight. I'm sure you won't mind if I store a needlepoint project or two bottom right.
I'm sure you will agree that the entire membership would benefit. If, however, you are determined to move forward with the original plan, which is, if I understand correctly, clean out the refrigerator and order two pleather recliners, Mr. Blandings is correct. Nebraska Furniture Mart is just the spot.
All images courtesy of Rooms by John Stefanidis; photography by James Mortimer.