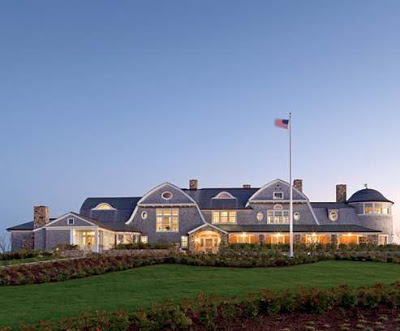 Architectural Digest this month features a home by Robert A.M. Stern, and I was tempted to make Stern the subject of the last Pop Quiz.
The same publication featured Stern's own East Hampton cottage in February of 1994.
I'd rather hang out here. I'm not sure you would agree, but it is difficult for me to visit the ocean and not be overwhelmed by its vastness. I have three children, so I have my own daily reminders of my insignificance in the universe, but the ocean can make me have to sit down, maybe close my eyes, and get my bearings a bit.
Because of this, I think the best beach houses are cozy. Contained. A reminder that, while indeed the world is wide, you can make your spot in it, perhaps no larger than your shell, to shelter you while you sort things out.
I could live the rest of my life wishing to live up to that epitaph.
For all the reasons that Goldberger stated, I prefer this house, which contains all of Stern's usual elements, to the gigantic ones.