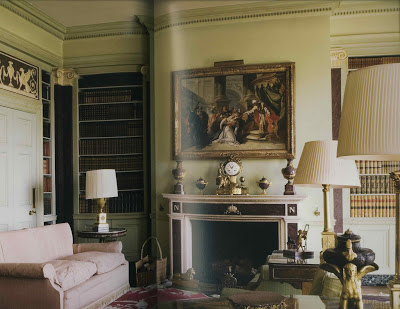 OK, so here we go. The room, above, is from Regency Redux, but would you be surprised if I told you it was from World of Interiors last month? I don't think so. Even in color this room holds its own.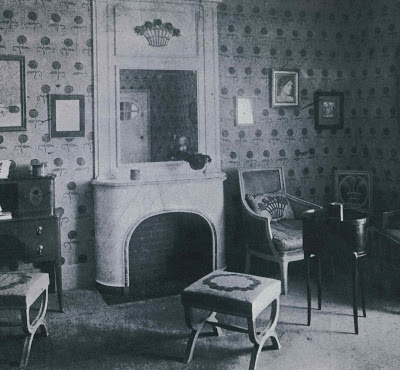 This room by antiques dealer Andre Groult appears to have one of Michael Smith's favorite fabrics applied to the walls. The X benches, of course, are an element that appear and re-appear. One of the things I had to edit around a bit in putting together the first post was art and flowers; they are dead give aways for dating a room.
The room above, poorly scanned, encompasses all the elements of the 1940's Connecticut farm house that is my particular back story. Formal and cozy at the same time it is all the things I'd love for my home to be.
This jumpy little number could be straight out of domino when you erase the color. Circa 1960, as you might guess, many of these pieces would fit right into today's scheme. Boxy, Hicksian sofa. Chrome and marble coffee table. Drum shade on ceramic lamps. Gallery wall, painted armoire and mix of old and new.
This room was a surprise to me. I like it better after seeing it in black and white. There must be overhead lighting (even beyond the chandelier) and I am missing lamps. I'd replace the glass on the cocktail table with some sort of stone, but otherwise, I really, really like this room.
Fantastic in every way, Billy Haines's own dining room. Heaven.
Smith, again, but look back at yesterday's post. They could be vintage images.
Andree Putman, 1987. Even though this room is not traditional, it is classic in design. A sofa, a pair of chairs, the lovely enfilade. So chic.
Paul Dupre-Lafon, 1938.
And, again.
But this, you might recognize, is Chessy Rayner for Bill Blass.
While there are elements of Smith here, plaster walls, iron bed, exotic pieces, there is not enough color and layers of fabric to be a telltale Smith room; this is Jacques Grange circa 1987.
Photo credits as follows: Ralph Dutton, RR; Andre Groult, RR: Hugh Chisholm, RR; Henri Jova, HG Complete Guide to Interior Decoration, 1960; Ruby Ross Wood, RR; T.H. Robsjohn-Gibbings, furniture & interiors of the 1940's; HG Guide 1960; Billy Haines, RR; Govenor's Palace, Williamsburg, HG, 1960; Smith, Houses; Smith, Houses, Andre Putman, HG Best in Decoration, 1987; Paul Dupre-Lafon, f&i of the 40's; Smith, Houses; Smith, Houses; Chassy Rayner, RR; Jacque Grange, HG, Decoration 1987; Smith, Houses.