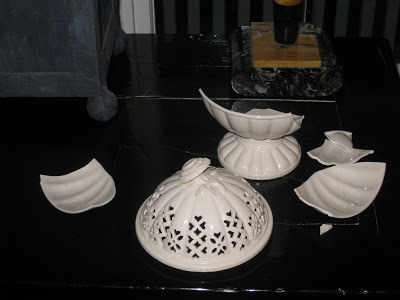 Darn. I mean, "everything breaks," but still. Darn. It wasn't his fault, exactly. He was throwing the toy for Rosie. It wasn't news that we don't throw toys in the house, but it was rainy and he was playing with Rosie and, well. There was no use in yelling or lecturing as the remorse was real and immediate. But, really, darn.
At the last trip to the showroom, in an area where I had no business being, there was this. New. From Scalamandre.
Tarim. A cut and loop velvet. I do have a fabric problem. Don't tell, but I have a small sack of fabric samples and when my self-declared sample return days come around there are a few that I pick up from the sack and then put back. "Not today. Soon, but not today." Careful if you fall in love with this one too deeply, it's quite dear.
And, the ladybugs are back. I tried to take pictures of this last Fall, but could not capture it. Dozens and dozens of ladybugs on the Dream House.
When I'm sitting at my desk I can see them in the back yard flying about. The sun just catches them so that they show up like some kind of fire fly in reverse.
They are everywhere and we all carry them in unknowingly on coats and back packs and sweaters. Last night as Mr. Blandings was gathering them up to release them back outside the youngest protested, "But Dad, they're lucky!" As are we for the week or so that they polka dot our home.
And, last minute plans. I'm off to New York on Tuesday to see my big city friend and hopefully meet up with a few of my on-line buddies. It's a bit fast and furious, but I can hardly wait. Oh, how I do love that city.