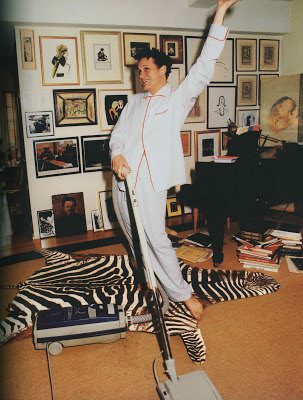 At a holiday party recently I had the interesting experience of meeting someone who was a bit too deep into a controlled substance. The outer limit of my experimentation has been tequila so I'm always intrigued, and a little scared to be honest, to see someone a bit off his rocker. I had two distinct thoughts. The first, "If I ever try that every one else in the room has to do it too as it is not attractive." And, "Why in the world would one even start?"
I'm often tumbled off my high horse and just this week have realized I might have a bit of a problem myself. Holly Becker of
decor8
made a brief recommendation for
Isaac Mizrahi's video blog
and I am finding myself at my desk entranced, shouting over my shoulder at the boys, "Can't you get it yourself? I'm busy." In addition, I have a well-stocked supply of chocolate covered almonds in the house which leads to double indulgence.
Just try it. Just one. It won't hurt a bit – it's fun. C'mon, everyone's doing it.
Image, above, courtesy of the Well-Lived Life, Dominque Browning. By the way, Ms. Browning, were this to ever come your way I just want you to know how much I miss your writing.