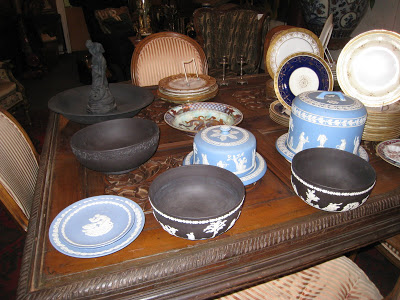 Remember that little Wedgwood bowl I stumbled upon at the River Market Antique Mall?
I thought it might be a good way to start a collection.
You know how collectors are. They troll and search and bargain and buy and then, well, then the thrill is somehow gone.
And one is simply left with dozens and dozens of pieces of amazing Wedgwood.
I haven't touched base with Rick as they are just getting ready to unveil a new shipment, but a little bird told me that this is his collection spilling from shelves and tabletops in the shop.
It's tempting isn't it?
To build a collection in one fell swoop.
The basalt – the all black pieces? "Wrap it up!" Oh, don't I wish.
Stick around.
You know me.