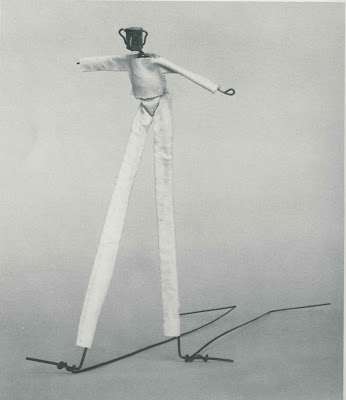 A couple of years ago I called his art teacher at school to see if she could suggest an art class that he might like. "It's not that I think he's gifted or anything, I just want him to have the opportunity to do what he wants to do" which is generally not math or spelling or sitting still. This woman, whom I respect, who goes in everyday and teaches art to those who are interested and those who are not, listened politely. I'm quite sure she had her head in her hand and her eyes closed as she held the phone and heard my anxious plea for an outlet for my artistic genius. Who was six. "Patricia, the best thing you can give him is a well-stocked art cabinet. Just let him have fun."
So last night as we lay in my bed, at loose ends as we had finished reading the last of the Harry Potter books aloud on his ninth birthday, we looked at this big book on a man named Sandy whom I keep talking about and mentioning and showing. "Look, see how it all balances?" "Did you notice he used mostly black, white and primary colors?" "Don't you think it would be great to have a work room like that?" Then we came to a page that had a man on stilts from the circus and he asked, "What are those wires?" "Well, maybe that is what he needed to move the man for his act in the circus." "Maybe. Or maybe they are the shadows." Who is teaching who?
Photo, also from the book, by Marvin Schwartz.