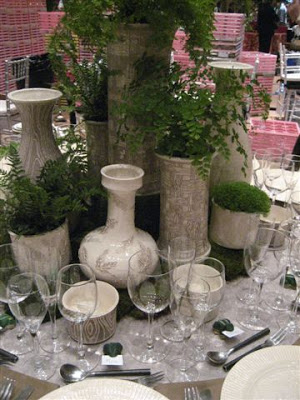 There is so much inspiration to be found from dining events and the tables that the designers put together. I hope to have pictures from Dining by Design soon, but in the meantime wanted to share these images from Christopher Spitzmiller and his table at the Lenox Hill Neighborhood House party at Sotheby's.
Christopher threw the pots in the center and Roy Hamilton created the wood grain.
Roy also threw the chargers.
They used moss around the base of the centerpiece and the tablecloth and napkins are felt. I love the restraint on the centerpiece. The ferns are so lush and the empty vases become sculpture.
All images courtesy of Christopher Spitzmiller.