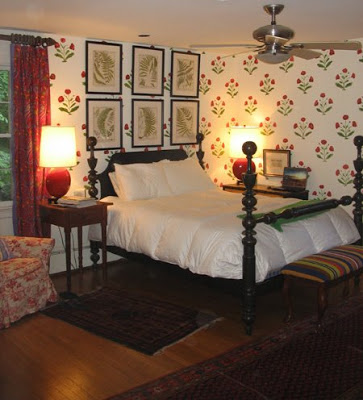 So here I am going on and on about myself and I receive a lovely email from a reader.
Dana Gibson writes to tell me that she has just finished a project herself. Dana painted this poppy pattern on the walls of her bedroom. Freehand.
I know. Unbelievable.
Then, when I emailed back and said, "Get out!" or something like that and she emailed this:
She painted the floor of her dressing room in a hounds tooth pattern. She started the floor using a stencil, but gave it up because of smearing. So she outlined the pattern and painted from there.
She has been a potter for the past fifteen years and her decorative items might look familiar to you. They are carried by some of the snazziest retailers around. Here in Kansas City you can find her pieces at Trapp and Webster House.
She has recently expanded the line into tole lamps and wastebaskets.
What she didn't mention, as she is far too gracious, is that she is the grandniece of Nancy Lancaster and a descendant of Charles Dana Gibson. (Get it?)