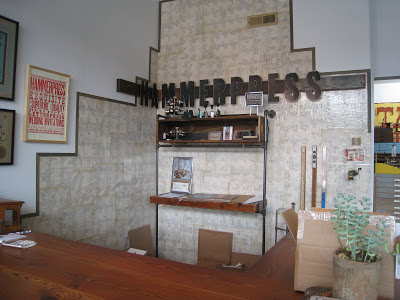 After lunch yesterday I was headed home, but the painters were there and I knew they were sanding and it would be noisy and messy, so I took a detour.
Brady was getting ready for First Fridays when I stopped in. I told him I'd come back when everything was out and he said, "Come on back." As in the back room. You do know I love the back room.
Piles of stuff and stacks of boxes and a palette of ink that I could have brought home and hung on the wall.
If you are a visual person this is the type of place that make your synapses snap, crackle and pop.
All designed and produced here in this little sunny spot on Southwest Boulevard.
But they do other posters as well. One of the reasons I stopped was because a friend had mentioned the poster above.
Hammerpress does custom work, of course, and has many samples of comprehensive work they have done for events and organizations.
I know the weather is not supposed to be great, but May is usually a hopping First Fridays; stop in and see Brady and his crew.