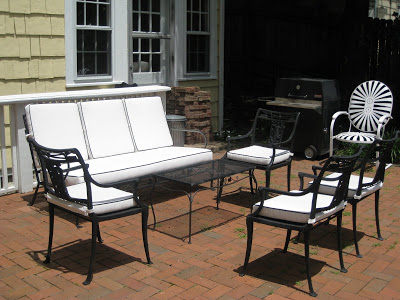 George Terbovich had three of these chairs in his shop when I worked there. The sort of sunburst one with the oval back. I ran across one in not very good shape shortly thereafter and bought it. It's a bit unstable. I can sit in it because I know, but it is almost like sculpture. I love it.
When I emailed my editor to determine the subject of this month's Hunters and Gatherers column she emailed back, "vintage outdoor furniture, including wicker." Or that is what I read. What it really said was, "vintage outdoor furniture, specifically wicker and rattan." Sadly, by the time I went back to the email to clarify I had done a good bit of research on iron furniture and was full on obsessed about these chairs with spring steel seats.
And then they began to pop up everywhere.
Christopher Filley has a set with octagonal backs. Octagonal backs. Just when I thought it couldn't get any better.
I noticed them again on the set of Grey Gardens and then stumbled on a cameo appearance in the image, above, from the actual house.
Bunny Williams, again, at her pool house.
And garden. Nearly everyone agreed they were 30's to 40's. Internet research produced random bits here and there.
Again and again and again.
Images previously unattributed: David Hicks in David Hicks Designer by Ashley Hicks, green chair in The Way We Live with the Things We Love, Stanfford Cliff and Gilles de Chabaneix and, bottom, La Strada della Dolce Vita, Lynn von Kersting.