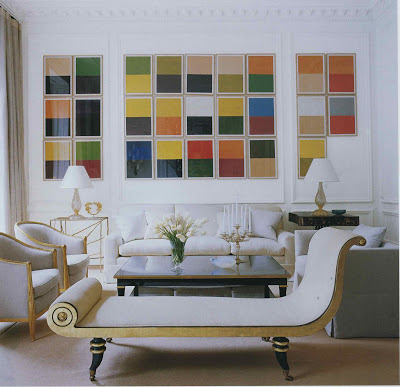 Fall seems to set in with a flurry at the Dream House. A week or so ago Mr. Blandings's sisters and their husbands were in to celebrate their mother's 80th birthday. The week preceding was consumed by cleaning and fluffing and laughing and eating. All came off without a hitch and it was such a treat to have the women and men who have known Mr. B since birth here for such a happy occasion. I was reminded that I was merely a vessel; apparently, the boys all look just like him.
Most of us have had what we believe to be H1N1 and managed to dodge lice, which, while not uncommon among school-aged children still makes me itch just to type it.
This week my pulse is jumping as we have friends coming in from out of town and I can't wait for them to see the city for the first time. Our weather was dreary last week and I fretted to Mr. B, "I hope it's sunny and warmer. And that the trees turn a little more. But that the leaves don't fall before they get here." "I'm not sure that's in your control." I stared back in wonder at the irrelevance and sanity of this remark.
The visit has triggered a whirlwind of activity. The front hall needed a bit of spiff. Something, heaven knows, but I wasn't sure quite what. The image above provided inspiration and the framer promises that the pieces will be back in time. Stay tuned.
In addition, I had sworn off junk. No more place holders, only really good pieces. Sadly, the
Paul McCobb
tables/consoles/chests that would be ideal flanking the bay in the dining room never seem to be a priority over football fees and field trips and food. Nick Olson provided inspiration
here
and if the consoles are not forever pieces, they may move on to one of the boys' first apartment someday.
Mr. Blandings has the cookbooks out and keeps interrupting my painting and gilding with queries of dishes and desserts.
And Halloween is on the horizon. "What are the boys going to be?" a common question. For the last two years I have had a new code, "What ever your costume is, it exists in this house. Use your imagination." Grumbling eventually gives way and they all come up with something of which they are usually quite proud.
My mania has peaked, I think, but I am never happier than when I have that creative muse whispering in my ear.
Image, above,
Elle Decor
, it graced the cover of the December 2006 issue, design by Shelton, Mindel & Associates. Photography by William Waldron. The image appears in the fantastic new book,
Style and Substance, The Best of Elle Decor
by Margaret Russell, which I received for review from the publisher.