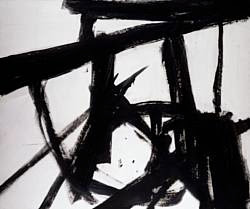 There was an interesting article in the paper this weekend about the loss of serendipity. The theory is that as we hunt and peck behind our screens we are less likely to stumble upon something new and fresh. Everything is sorted for us. There is little opportunity for surprise.
At the
Nelson
yesterday my friend and I stopped in front of this painting by
Franz Kline
. As we were walking away the museum guard, who had stood quiet and unalarmed as our children darted here and there, stopped my friend to tell her that Jackie Kennedy had endorsed Kline. It was considered a brave choice, he said, for her day and position.
Sometimes it's good to get out.
Image courtesy of the Nelson-Atkins Museum of Art.