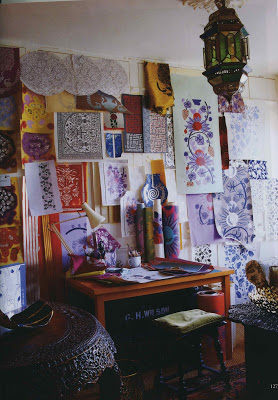 Henry Wilson, of yesterday's post and the wonderful walls, has a day job; he's an interiors photographer.
And then at night, sometimes until three in the morning he cuts stencils and paints.
"All my wallpapers here have been stencilled on the kitchen table with my own hand. I have petit-pointed the cushions, acid washed the windows and patterned the roman blinds – and everything has been informed and inspired by my intense bond with what I have seen in India."
While his mother had worried that all this energy wasn't exactly lucrative (mothers are that way) a little commercial venture came along.
This last pattern is in honor of Penelope, who comforted me about the loss of my faucet with tales of product lost and images of her peafowl. It worked.