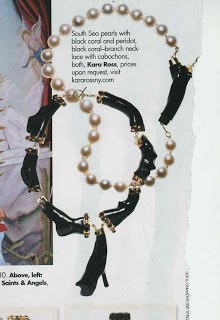 The newest selection in the on-going series now titled, "Bracelets I Cannot Afford." While I love the black coral pictured above (it's actually a necklace), I'd really like to have a bracelet made with the white branch coral pieces that I collected on my honeymoon. I wouldn't even need the fittings to be jewel encrusted. That's how grounded I am.
The necklace, and many other amazing pieces, at Kara Ross New York.
Image above from Elle, issue and photographer unknown.