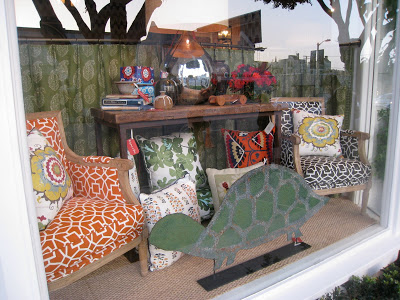 I will not subject you to my vacation slides, but I feel I must offer up a summary of a very lovely trip. I was enchanted by Los Angeles. Sunny and warm. Up until now any visit to somewhere sunny and warm has meant sunny, warm and humid. I was delighted to find that this is not the case in Southern California.
I was delighted not just because it was a relief to dodge the energy sapping oppression, but also because I was worried about my hair. I have bad hair. Maybe you think that as a Midwestern housewife heading to LA to rub shoulders with the design glitterati, I should have other things on my mind. But mostly, I was worried about my hair being either limp or frizzy.
Before I left, Mr. Blandings asked me if I was nervous. I am not nervous to speak in front of people and certainly not to talk about blogging as we are all making this up anyway. But this panel was something else altogether. Mayer Rus. Michael Bruno. Vicente Wolf. I was clearly playing up.
I had met Vicente before and was thoroughly charmed. I had stalked Michael Bruno when I first started blogging. I had sent email after email trying to lure him to visit Kansas City. He was lovely about it. He was still lovely about it when I brought it up again last week.
Mayer Rus. Mayer Rus, for heaven's sake, whose back page was my first stop in House & Garden. Rus, the originator of design snark that no one else has yet again to capture without delving into the personal and petty. Rus, whom I could only compare to Keith Richards to give Mr. B perspective, would be sitting just to my right. And I, a girl whose taste tends to run more toward James Taylor, was giddy. And a little nervous. I have always had a thing for bad boys. Meeting Mayer gave me the jitters. I'm sure I flushed when he walked into the room. Nonsense, of course, as he was terrifically nice. The marijuana motif on his socks also took the edge off. Now knowing that writing those columns caused agony equivalent to the drug-free delivery of twins makes me treasure them all the more in their lucite temple on my shelves.
The panel discussion was fine (me), informative (Margaret and Vicente and Michael) and lively (Mayer.) If it is available on-line at some point I will post the link and you can judge for yourself.