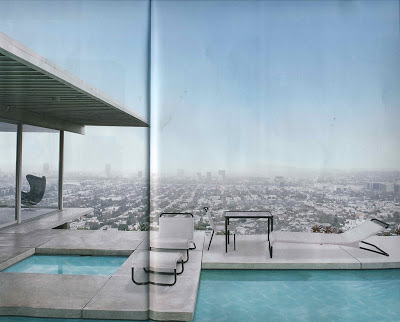 "I want to live there," declared the youngest Blandings as he flipped through the Design Within Reach catalogue. (Do all children scour the DWR catalogue like mine? FAO Schwarz would not get as much attention, though our Lego catalogues look like they have been through combat by the time the new one arrives.) Was it the Egg Chair or the pool or that hazy view? Could be the crisp, clean lines. "Darling, that's California," wondering if my tone conveyed the land of milk and honey as he turned the page.
The house above is the Case Study House #22 in the Hollywood Hills designed by Pierre Koenig for the Stahl family in 1960. More information on the Case Study House program
here
. Image via Design Within Reach.