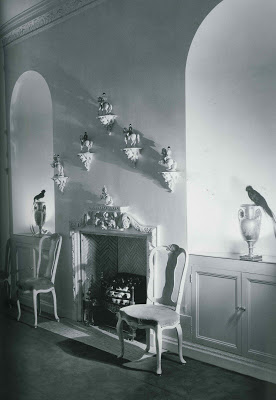 Does this have a name? This putting of porcelain on brackets? Some wonderful French bon mot that describes it wrying and succinctly?
My grandmother had a collection of dime store birds that were scattered about her living room, tchotchkes come to roost as if she had scattered glass bird seed on the tabletops. Why not give them higher perches and feather your nest with a flock of cocktails instead?
Beasts abound and one could easily amass a barnyard's worth (including and especially pups, which are on my mind as a local shelter has a new litter of Boxers.)
But I think I'd rather turn my wall of brackets into a trophy case of Cleverly's clever take on historical figures.
Can't you see them, formally displayed, giggling from behind their glaze?