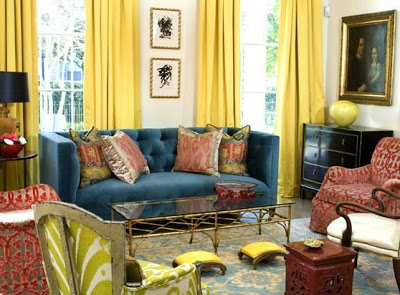 Geez, Louise, but it is hot and sticky here in Kansas City. I'm a warm weather fan, but this Indian Summer is wearing out its welcome.
I think I've shied away from white walls in the past because I have such an itch to color outside the lines, but Rufty's rooms show that white can be just right. These spaces are anything but vanilla.
It helps, of course, that her furniture choices are so distinct; mine are not nearly so fine though what they lack in pedigree they do make up for in chutzpah.
Everything looks so crisp. Everything looks so clean.
Even when the upholstery is not as exuberant the look still goes, "pow!" Who needs colored walls? White is the answer!