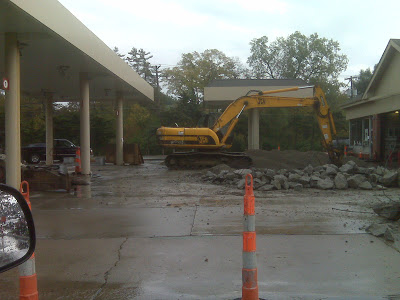 This may not seem significant to you, but this is the end of an era. This gas station, Prairie Village 66 and before that Prairie Village Standard, is a neighborhood icon. Was. Mr. Blandings's family has known the owners from way back and we go out of our way to get our gas here because, well, that is what we do. Did. We took our cars to Roney's for gas and air and tires, but we also took them there when something was wrong, something that we knew they couldn't fix, knowing that they would send us somewhere good and fair. Because, well, that is what they did.
One of my best friend's husband has a flat and while they run their own company, well, they are a little befuddled about what to do now that Roney's isn't there. The lever that pops open my mother-in-law's gas tank has been stuck for months, little trouble as the guys at Roney's knew how to open it without a hitch. You may see her driving around town with that little door flung open. Helpless.
I know it will be one of those things I will continue to refer to, one of those things the boys will tease me about, "Mom, Roney's hasn't been there for thirty years," as my friend teases his mother who still refers to Stix Baer Fuller.
But they will remember it, too, because they envy not just Mr. Roney but his son as well. To my boys, at least, very few things could be cooler than owning a gas station. How could you beat fixing things with your hands, having a legitimate reason to be dirty, while your friends stop in to get their oil changed, leaning on the counter for longer than they should while the fumes of gas and oil and hot cement drift in through the open door? The fact that the coffee resembled discarded WD-40 mattered not.
The thing that I love about this town is the same thing I loathe; it feels like Mayberry. But a little less so today.