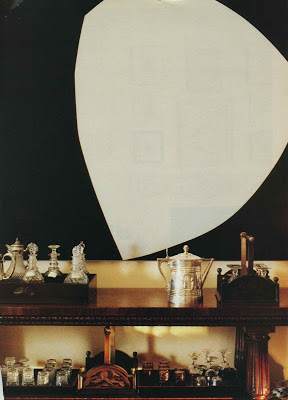 Things should seem a little upside-down and you would think that I would be repacking the things at the in-between house, but I'm not. It could be denial that I have to finish the second half of a quite unpleasant task or it could be the wine. Still, I am passing my time going through tear sheets culling inspiration for the "new" house. The house whose move's only appeal is its past tense. The as-yet-unnamed house.
So while I look one more time for my evening shoes (they were here, I swear they were) we can consider Mica Ertegun's Ellsworth Kelly (I do like Ellsworth Kelly) and sparkling silver (oh, I do like silver) and the William IV table. Yes, I have a thing for William IVs, too.
Image, House & Garden, March 1987 (Oh, March, 1987 I remember you well. My friend and I were skating through our last, light, semester in college with many big nights out on a small town. Even as I was gathering my rosebuds I wished I'd picked a few more. Fraught with manufactured stress I did not realize that that was the last of my freedom.) design by Mica Ertegun; photography Oberto Gili.