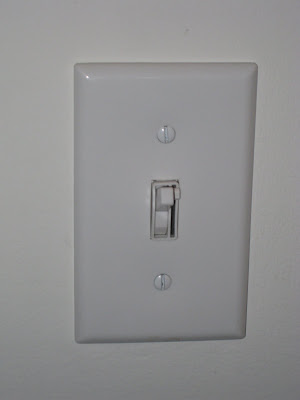 We have been in the house for two weeks. In that time we have moved all our worldly possessions, sorted some, put a few away (fewer than I would care to admit), set up a Christmas tree, had visits from Santa and a few relatives and cooked some meals. Any and all remaining brain cells have been focused on trying to remember which of the one-thousand-and-one light switches turn on the one-thousand lights. The light switch, above, turns on these three spots in the living room.
But this switch, very close by and logically a candidate for the living room lights,
turns on these very small spots in the pseudo-hall which appear to do nearly nothing.
While this switch at the other end of the three-foot hallway
turns on this can. Also, three feet away. Because, seriously, there might be a situation in which you would want one end of the three-foot passageway lit, but not the other.
These three switches control the lights in the powder room. Yes, three switches. In the powder room.