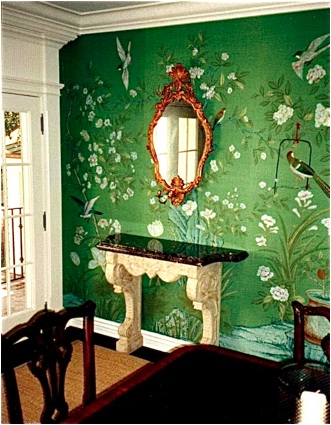 The paint has arrived for my dining room. The final two choices still remain, side-by-side, on the East wall and occasionally I wonder if I selected well. Selected best, I suppose, as they are both fine shades of green. The universe keeps handing me gumdrops of reassurance, not the least of which was this wonderful image from Matthew White and Frank Webb. They are partners in the firm White Webb and produce a lovely design log which you can find here. This issue they are exploring the glory of green and make reference to Oz in the nicest way; I couldn't resist.
Today the electrician comes to scoot the sconces out a bit. I think Mr. Blandings would advise to play it where it lays, but he is keeping it to himself. By the weekend I am hoping the room will be ready for the wizard himself.
Image courtesy of White Webb and is used with their permission.