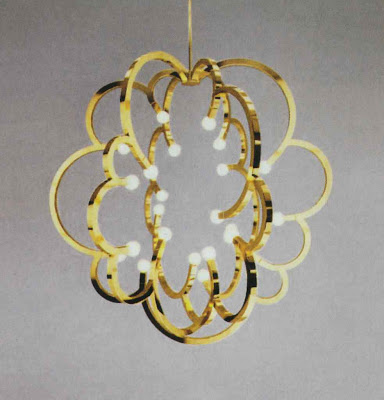 When I was little I drew on walls. Intricate neighborhoods down staircase walls and animals and friends, but mostly I drew flowers. I was an only child at the time and my mother's nonsensical question, "Who did this?" resulted in the immediate and clever creation of an imaginary friend/scapegoat. In the slightly unreliable landscape that is my memory, I recall that the flower garden, a mural really, over Krissy Livengood's parents' bed was the last straw. Grounded? It was before that was vogue. Spanking? Tried and ineffective. (It was a different time.) No, my mother, who I think reveled in the concept, but resented the removal, relegated the inside of my closet free reign. I could draw whatever I wanted there – as far as I could reach.
I know money can't buy happiness. I know things do not bring us joy. But Lindsey Adams Adelman's Blow light fixture above my dining table just might return me to the days before the pink and purple crayons stayed crisp and sharp in the box and stems were just one curving green line from earth to bloom.
Image, Elle Decor, June 2011 via their piece on Jason Miller and Roll & Hill.