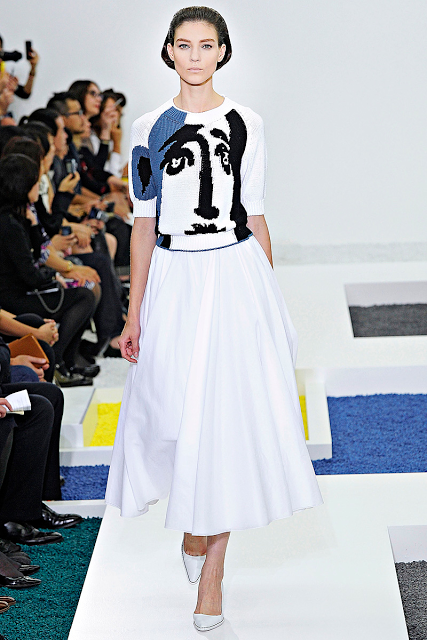 Truth be told, a great deal of the clothes in my closet could be from the boys' department. Dungarees, oxfords and loafers. I still wear a watch, want a watch, need a watch and am pretty sure the only one that will ever grace my wrist will be a man's. When I dress up, mostly my selection is lean. Sheath. Pencil skirt. Heels. I like the exclamation.
But I love a full skirt. I love the sway of it, the swing of it, the breeze of it. When you walk in a full skirt you can't help but shift your hips a little. The same motion, form fitting, would shout "tart," but here, encircled in yards of fabric, the movement just whispers "flirt."
When you walk in a full skirt with a long stride, its folds can catch between your legs, wrap around your wrist. You feel the hem brushing the front of your shin, the back of your calf. When you stop, it still moves. A slight swirl before it rests. And in all that girlish vulnerability there is just a hint of easy accessibility.
Image of Jil Sander Spring Ready-to-Wear via Vogue.com.