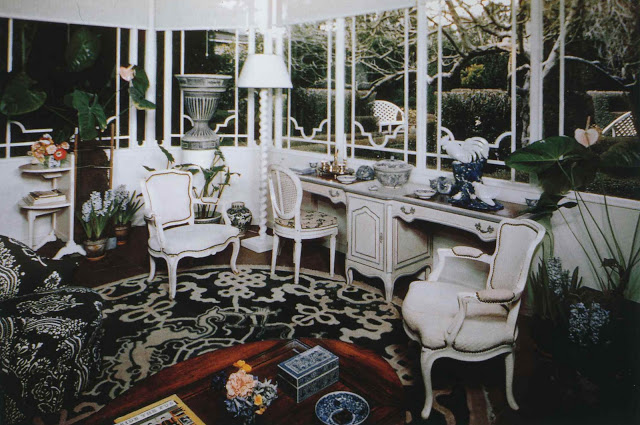 I was telling a friend yesterday that Frances Elkins and I have been having an on-going tete-a-tete about my office. Ms. Elkins used her solarium as her home office as well, and she sat overlooking the walled garden that her brother, David Adler, designed for her.
My office is three walls of windows very similar to this, though they go nearly to the floor. I was telling Ms. Elkins that I did not care for the style of the mullions on my windows; they are a bit arts and crafts for my taste and don't relate to the house in any way. She paused before pointing out that they are exactly the same as her windows, though hers had a further flourish. This reassured me a bit as she knew it would.
In the spirit of solidarity I ordered a new white bamboo desk chair. (She did not have white bamboo here, but I was sure that she would approve.) It was happily in place when Bill came home from work. "Is that comfortable?" he asked taking in the criss-crossed lattice of the back. I stared back blankly and he nodded, "Never mind."
He thinks it would be a fine idea, however, to buy a day bed to go underneath the windows on the long wall opposite my desk. "You could read a book there. Or nap." This made me wonder how he thinks I spend my day, but rather than take the bait I noted, "The only beings that would sleep there would be Dexter and Rosie." "Well, that would be ok, wouldn't it?" It would, actually, as it would provide an excuse to hunt down two rope lamps to flank it.
I can feel my work improving already.
(By the way, if you think there is any chance that I could get the boys to say "solarium," you are delusional. I can't even get them to say "sofa" though they have never heard me utter the word "couch." I blame the media.)
Image from Frances Elkins Interior Design, Stephen M. Salny, W.W. Norton & Co. 2005.