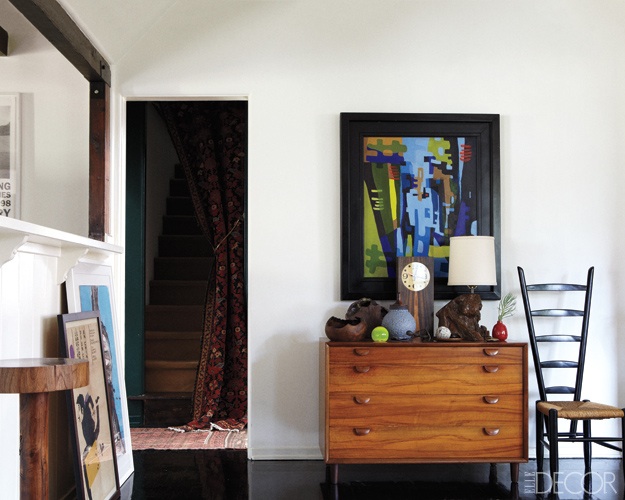 I bought a painting from Christopher Filley a few months ago – before the holidays – and it sort of brought into focus what I'd like to see happen in the family room. A little grasscloth, a little Peter Dunham textile, a dhurrie rug and an ottoman instead of a coffee table that digs into the back of your heel when you put your feet on it. So far I have the painting.
But I didn't know how to frame it. Then, flipping through March's Elle Decor, there it was.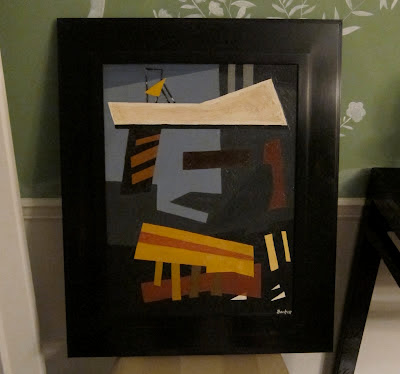 It just drops in your lap sometimes, you know? You're not thinking about framing at all, in fact, you're thinking about how you've messed up the Spring Break flights and your husband is going to be furious (he wasn't) and there it is. The answer.
I didn't want anything lighter around the painting and I wanted the frame to have the same linear, blocky feel. And I am very, very fortunate to have Dolphin Gallery nearby as Scott and John tinkered happily until we were all satisfied.
Now I just have to order the grasscloth and the fabric and the rug and the ottoman.
Special thanks to designer Steven Johankneckt for unknowingly providing the inspiration, image top, in Elle Decor, March 2012, photography William Abranowicz; produced by Anita Sarsidi.