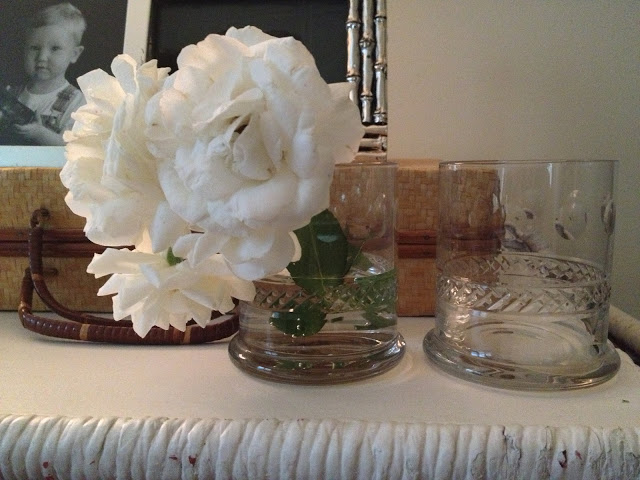 Shopping for a client today I ended up buying a couple of things for myself. The first was a well-priced quilt for the daybed in the sunroom which I needed. Really. Then, quite unexpectedly, these two crystal vessels winked at me from a cabinet. Marked "bar glasses" I felt sure they'd much rather be vases and as they were eight dollars for the pair I put one in each hand and took them home, giving new meaning to the phrase "double fisting."
The climbing roses that we planted a few years ago are finally blooming in earnest and I went out to cut a bunch. I'd neglected dead-heading and there were fewer than I thought. Fewer still as I said the words, "Dexter, please don't eat the roses," a phrase I never expected to say though it did not surprise me in the least as I did.
I'll keep one vase for for myself and give the other away as its nice to share good fortune. I had a lovely text yesterday from a friend complimenting an outfit I'd cobbled together for Saturday night and the words coupled with his great taste meant the world. He's met both Dexter and my meager garden so he'll understand why his cup is filled with good intentions rather than blooms.