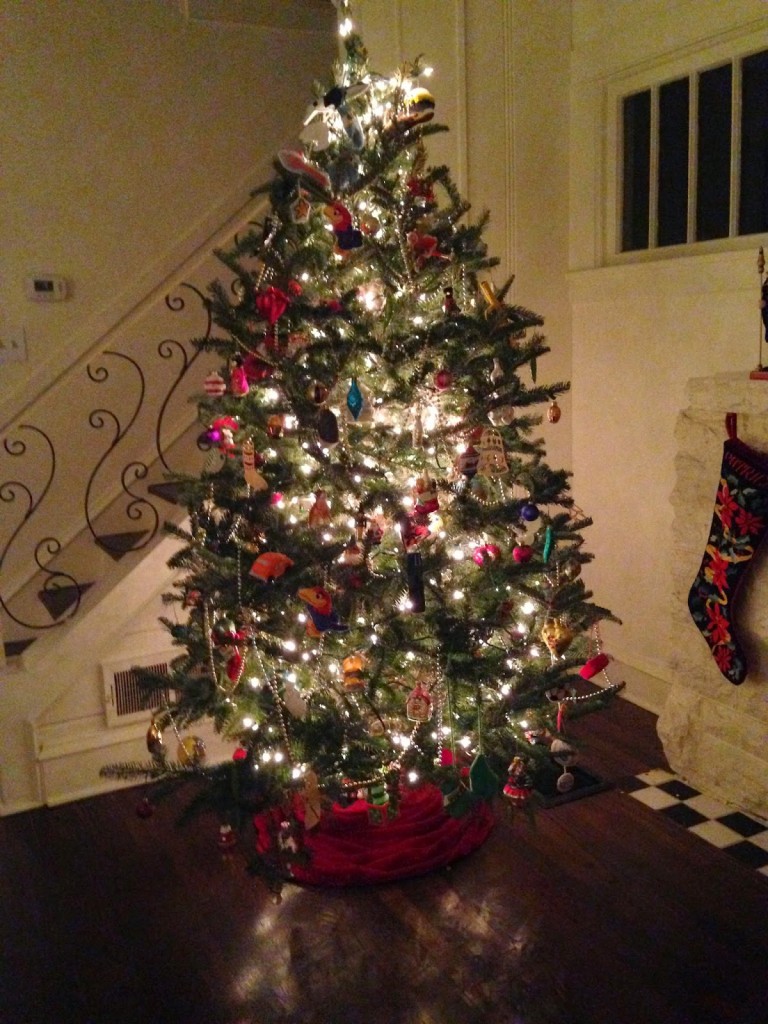 There is a house at 55th near State Line that used to be owned by a very charming couple, both with thick, dark hair, flashing dark eyes and generous smiles. They have three boys as I do, though theirs are now grown. I have always been inspired by her easy way in her role as fraternity house mother and by her abundant peonies.
The house is a large, brick Tudor that is squarish rather than long. Every year she put a Christmas tree in the front hall and the lights sparkled through the glass of the front door and I was enchanted, each time that I drove by, at the thought of a Christmas tree greeting visitors as they enter your home during the holidays. It is not something I ever imagined for myself. I never thought I would have the kind of space to set up a Christmas tree in the entry.
My house has a funny not-quite-entry, not-quite-part-of-the-living-room space to it. There is a perfect spot here for a table just under the stairs and I had just the right table and, of course, plenty of stuff to put upon it. What it needed was a lamp, but there was no outlet nearby. In my fret and worry of expense and my imagining that it would be difficult to add to an outlet there – for why wasn't there one already, as the spot so obviously wanted it – I tried to put the idea out of my mind.
But as we drew nearer to the holiday and I moved furniture in my imagination to make space for the tree, nothing made sense. I realized that this spot, where the table normally lives, was perfect. Moving the table was easy, but the issue of the outlet needed to be addressed.
I outlined all the difficulties to a friend; the expense, the likely inability for an outlet to be placed there at all, the not knowing someone who could do it. She said, "I have a guy." And she did. And he popped an outlet in the wall – and two others – for a very reasonable price, in a relatively short amount of time. All the difficulty, all the obstacles, all the stress was manufactured. None of it was real.
The charming couple has moved and their former home is undergoing renovations, hopefully being carefully modified to suit the family who now owns it. This year there are no decorations there. Instead, plywood covers the windows; changes take place out of the view of passers by. But I have a Christmas tree in my front hall and the lights sparkle through the glass of the front door and I am enchanted each time I drive up to see it greeting me and my guests during the holiday.
Thank you, as always, for dropping in. I am wishing you the best in the new year.
Patricia