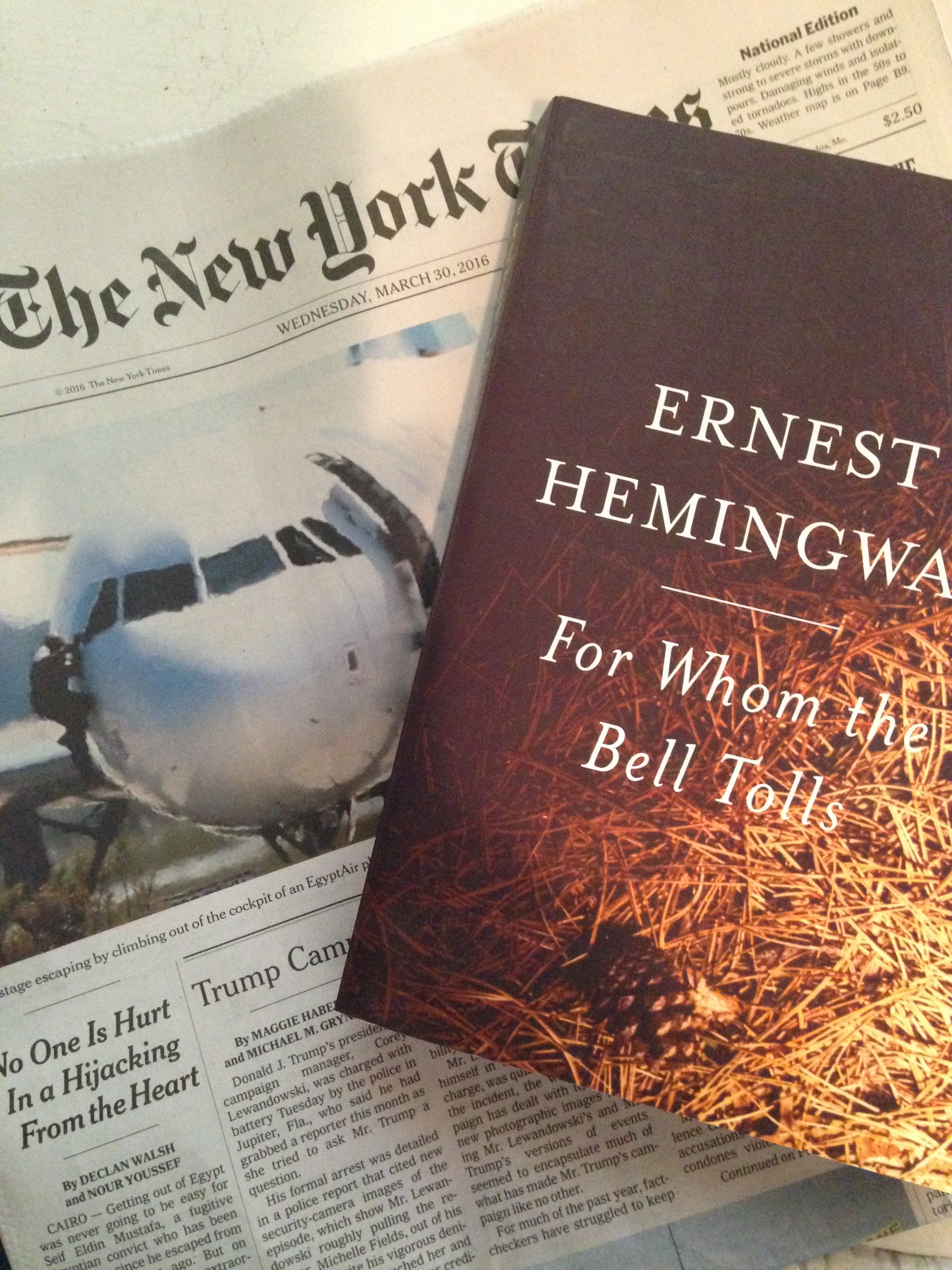 When I was younger, if I found an author I enjoyed, I would begin by reading his first novel and then each in succession until I had read the entire work. (Fortunately, or maybe not, particularly prolific authors, like, say, Shakespeare, never caught my eye.)
I had given up this kind of focus and diligence when I discovered Hemingway. I'd had to read The Old Man and the Sea in high school, and I basically closed the book, turned my head to the side and said, "Scott, darling, I'm all yours." Mr. Fitzgerald kept me company for a long time after. But on a summer vacation, beneath the rustle and smell of pines, I read For Whom the Bell Tolls while my children hiked alone on a well-known mountain. I was captivated by his language and his energy.
I read more of his books, but not all and certainly not in order. I was past that by then. Then, a few years ago, I read and reread all of Hemingway's novels from start to finish in an effort to discover if men love as intensely as women.  I figured that if a man as committed to machismo as Mr. Hemingway could show me the tenderness of his heart and the helplessness of being in love, that it could be true.
I've had this conversation with a few men in the last couple of years.  Their familiarity with Hemingway varied, but each replied in his own way, "More." The outward signs being so few, I found this hard to believe.  Though Hemingway had convinced me of men's ability to love with intensity, I have lots of dog-earred pages marking clues of the differences.
I was reminded of this this morning as I read Nicos Anastasiades, the president of Cyprus's, words, "Always, there is a woman," as he spoke to the press about the hijacking of an Egyptian plane.  While I am sympathetic to the passengers and Mr. Mustafa's mental and emotional state, the story of this man making such a large gesture for the love of his wife was a small dose of elixir for my skeptical heart.