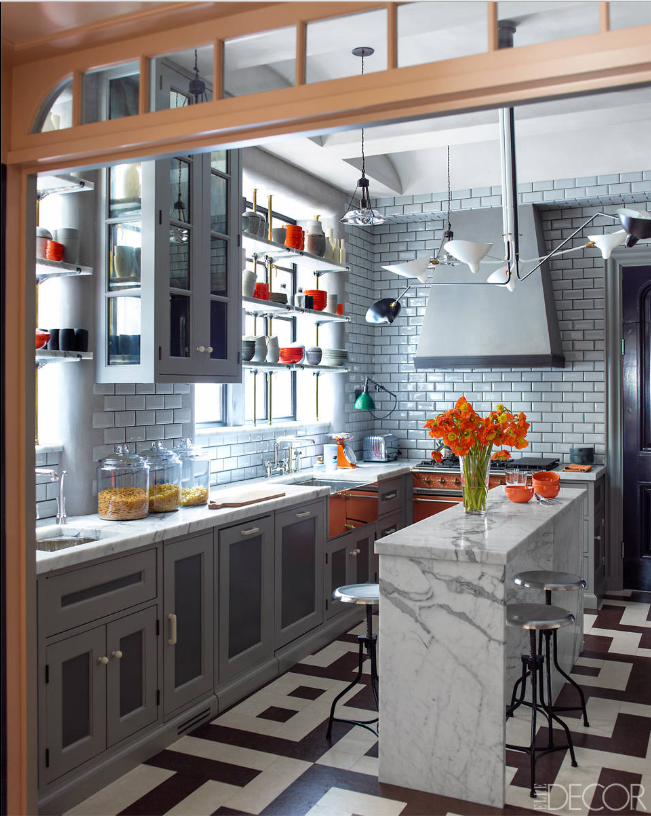 I was standing at the kitchen sink eating a peanut butter and jelly sandwich (don't eat standing up, fix yourself something you'd fix a guest, use a real napkin, don't admit your foibles on the internet – yes, I know) when I had an epiphany.  My house has North/South exposure, and the kitchen is on the back.  The cabinets are a medium-brown stain and relatively new and rather than acknowledging my good fortune, I loathe them.  I might not dislike them so much if they did not sit above and below a backsplash comprised of 4 x 4 slate tiles.
But, as I stood there looking out at the wonderfully sunny day, I was grateful that the room has three windows: one over the sink, one that overlooks the only muddy patch in the back yard where Dexter likes to sit, and one in the back door.  Just this weekend, I was thinking how much I want a storm door here so I can open both the back and front doors and have a wonderful breeze through the house.
Today, the dream became bigger.  I thought, "Wouldn't it be wonderful if this whole wall above the cabinets was window and I had shelves that ran in front of them?" Not only would there be more light (which is always good) and equal storage, but the room would seem twice as large.  All these things combined might make me actually want to be in it.
Being a kitchen, it's unlikely. But it's possible.
Image, Elle Decor, design by Stephen Gambrel, photography Eric Piasecki, styled by Cynthia Frank.  Here.