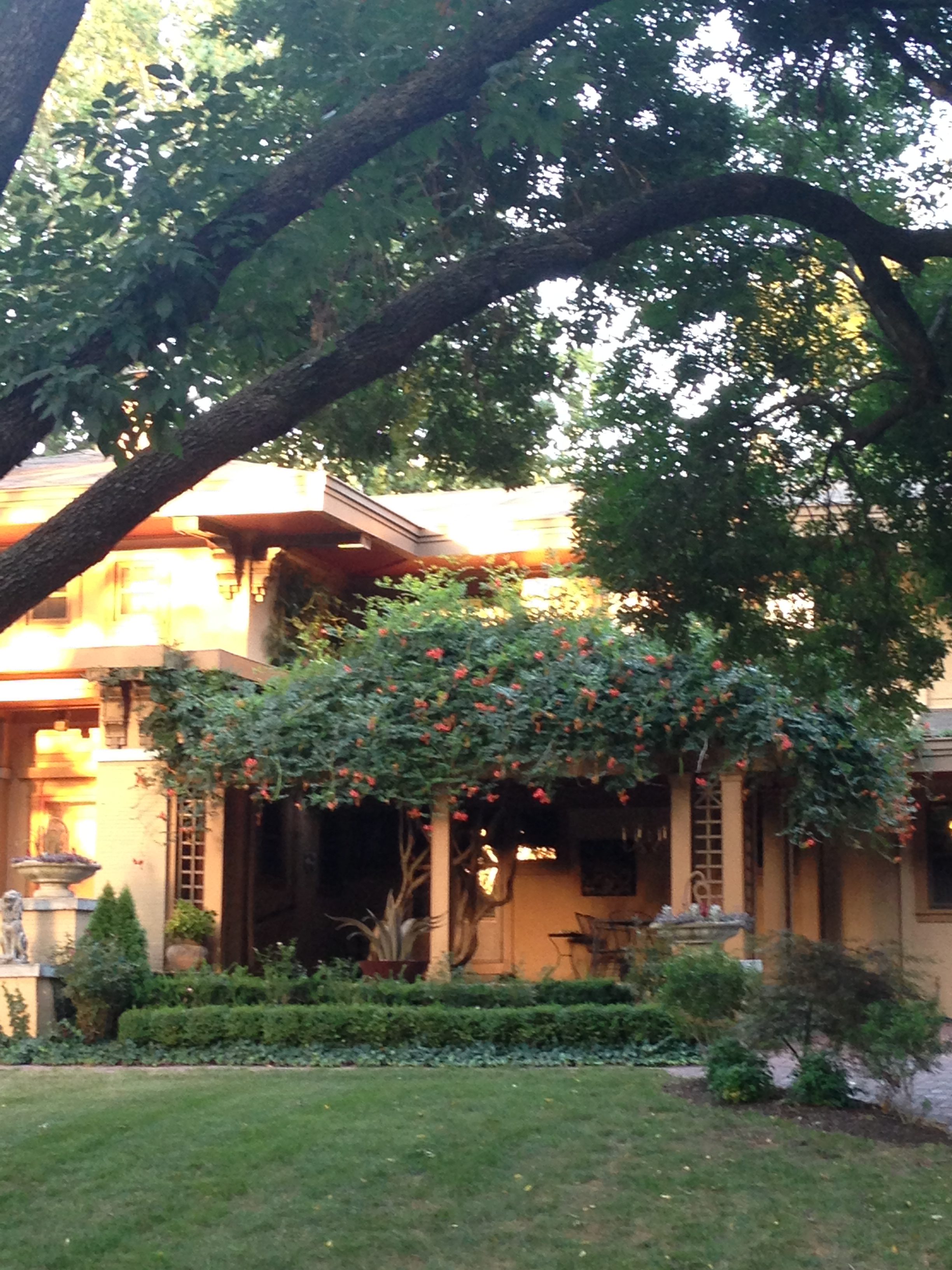 I walk my dogs, Rosie and Dexter, nearly every day. It's rarely too hot, it's sometimes too cold and none of us can stand to get wet, but besides that, we go. If we walk in the morning for our hearts and our waistlines, we travel faster and farther. If we walk at night, for our sanity alone, we stroll and stay closer to home.
For the first two years in this house I looped around and headed south on our walks. I don't know why I started walking north about a year ago, but now we do. Over weeks and months, as I stretched the route a little further, a little further, I stumbled upon a short stretch of street I hadn't been on before. There, tucked back from the road on a slight incline under very old trees are two large brick Georgian houses side by side. They are each other's only neighbor.
Their structures are nearly identical. Symmetrical and brick, one is its original red while the other is painted white. They are like identical twins who always have different haircuts. Each thinks her choice is best and I cannot decide who's right. Rosie and Dex are divided on the issue. I keep walking by these houses because I am not used to them yet. I like them, but they are still strange to me. I want to know their stories. They are indifferent to my needs.
Along the way of this pilgrimage is a house with a patio tucked in its belly. In the spring, just as we began to take the new route, a vine, thick and full, sprouted a canopy of leaves providing a cool, dense shade for the patio. We envied it, the dogs and I, and waited for the blooms. I expected the conical lavender cascade of wisteria, but it did not come.
As the weeks passed, I worried that the vine was ill. Though lush and green, it didn't flower. Then, one early evening as we headed down the gentle slope of the hill, we could see the orange cones of the trumpet vine hanging thick, their ruffled edges folded back to make way for the slender bills of the hummingbirds. It was not what I had expected, but lovelier in its surprise. I thought I should have expected it, the hue of the blooms so right with the colors of the house. Each time I pass it, I marvel at the thickness of the trunk and wonder how long she has been there, spreading her branches to shade diners and readers and those who showed up only to loaf. Many years, surely. Good things take time.
For the last few weeks as we walk at dusk, we are serenaded by the cicadas. I am so used to their song by this time of year that sometimes I stop hearing their chirp. But in the evening as we go slow under the canopy of the oldest trees, it is as if we are walking through a church tower the ring of them is so loud.
If we are ambitious, or the dogs have been cooped up, or I am restless, we walk around a nearby park. The dogs want to be out and when we are walking they always want to go further. When we go through the park, I usually follow the path, a ribbon that winds round the edge. But last night we cut through the heart of it.
The dogs are creatures of habit. They are used to sidewalks and paths. As I steered them across the expanse of lawn, they both looked back over their shoulders, the whites of their eyes showing, to see if I was sure. The lawn rose and fell in gentle movements and eventually their gazes were steady and straight, unalarmed by the lack of direction. They trusted me and in this case they should have. I was sure of what I was doing. We needed to go our own way and once they found the ripeness of new smells, they agreed.
When we got home, they were as anxious to get in as they were to get out, which is always the case. As soon as their leashes were off, they collapsed on their sides, their tongues lopped flat on the cool of the floor. I know they were not thinking, as I imagine they do, of where we go and why. But I like to believe that they appreciate that our direction changes and trust my confidence as we go a different way.
I have a dozen reasons why I haven't posted lately, though they are really just excuses.  Still, Mrs. Blandings turned nine last week and I didn't want it to pass unrecognized.  Thanks, as always, for stopping by.