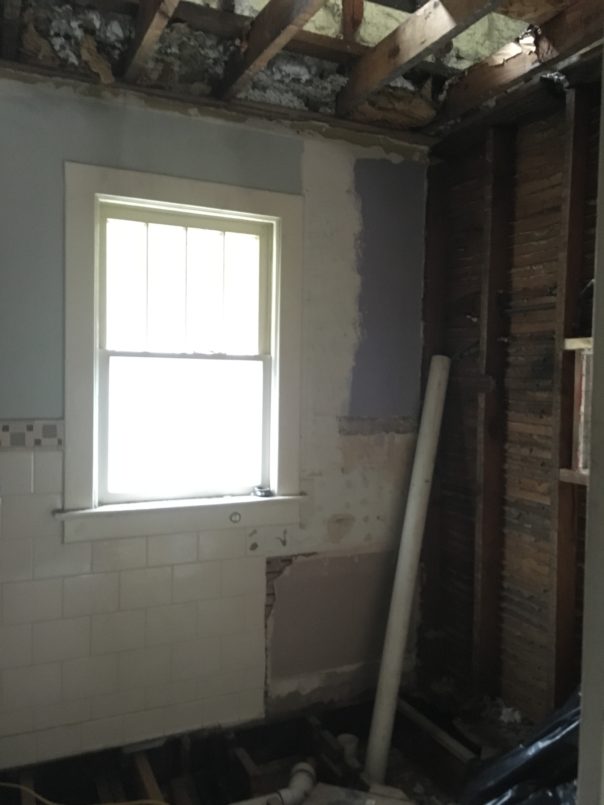 When we last spoke the second floor bath was a jumble.  Now it's a shell.  It looks enormous, by the way – spa worthy – though I know once the tub and the sink and the…well, you get the idea.
This was not supposed to happen, of course.  But suddenly here I am looking at the original framing of the house, through the ceiling and into the rafters of the third floor above.  I talked to a designer friend today who said, "I know this point exactly.  You're terrified you made a horrible mistake.  You think you're going to the poor house and you'll never set foot on that new tile, but I swear you will.  It's worth it."
I was oh-so-ready for this project.  I was so ready that the fixtures and plumbing and tile for the third floor were long ago signed, sealed and delivered to my entry, where they've been for the last few weeks.  These are now the plumbing and fixtures for the second floor, which will need them sooner and new plumbing and fixtures are on the way for the third.
We adjust.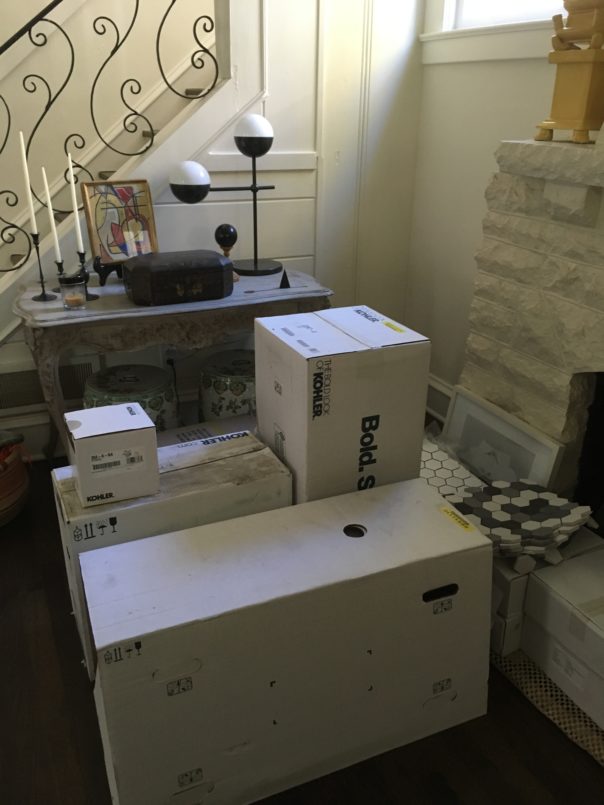 Until Sunday the old sink was sitting on top of this pile of boxes.  I don't know why. In some sort of fit (or, honestly, a need for control) I moved the sink to the basement.  I thought that without the sink this would look like the well-planned order that it is.  It would look like the well-planned order that it is every single time I walk in the door. Straight into it. Reminded – again and again – that things do not go as planned.
I thought that without the sink, every time I walk in the door I'll be reminded that sometimes plumbing and life throw you curve balls and you have to just breathe and walk around it and remember that nothing is permanent.
Except dust.
All of this product is Kohler.  You cannot see the name because they are a sponsor.  They are not.  I like their product and this is how the boxes were sitting.  Just in case you were wondering.