Mrs. Blandings's Needlepoint Collections
I have been stitching since I was twenty-six years old. I bought my first project when my mother was ill with cancer. I needed something to do while I sat with her at home or the hospital and I found needlepoint provided a calming distraction. I wanted to be engaged with her and her visitors and doctors, but I had too much energy to just sit. Once I began stitching, I found that the rhythm of the needle moving in and out and the rasp of the yarn against the canvas was remarkably soothing. I have rarely been without a project since.
Once I was addicted (and there can be a twitchy jumpiness to being without a project), I began to design my own canvases. As one of my designer friends says of me, I tend to "scale up." Many of the needlepoint designs on the market were too traditional, too centered, too formal. Everyone likes the pattern best, so why not make the pattern bigger? Why not make the colors fresher? Why not begin to look at this ancient art of needlework in a new way?
I've included yarn suggestions here to be a help. Please remember they are suggestions. If you need your yellow to be a little paler or your blue a little brighter, then trust your instinct. You know what's best for you.
Needlepoint provides everyone, even those who do not think of themselves as creative, a way to create something lasting for their homes. There are special stitches, which can be fun, but the basket weave stitch is incredibly easy to learn and makes a piece remarkably durable. I think making something that lasts matters. Don't worry about how long it takes you to finish. Enjoy the process.
---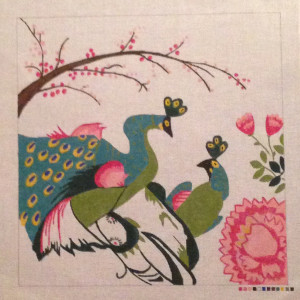 I first spotted this pair on a large Chinese jar. While I was delighted by the colors, it seemed to me that the peacocks were looking adoringly at one another. Do peacocks fall in love? Well, I'm always rooting for love.
---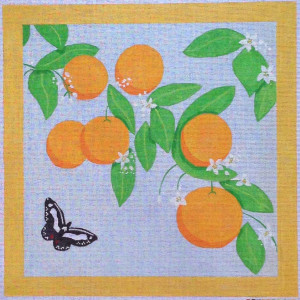 Orange Blossoms symbolize good fortune, which is why they are sometimes considered a "wedding flower." I love the combination of the graphic fruit amidst the dark, green leaves and delicate white blooms.
---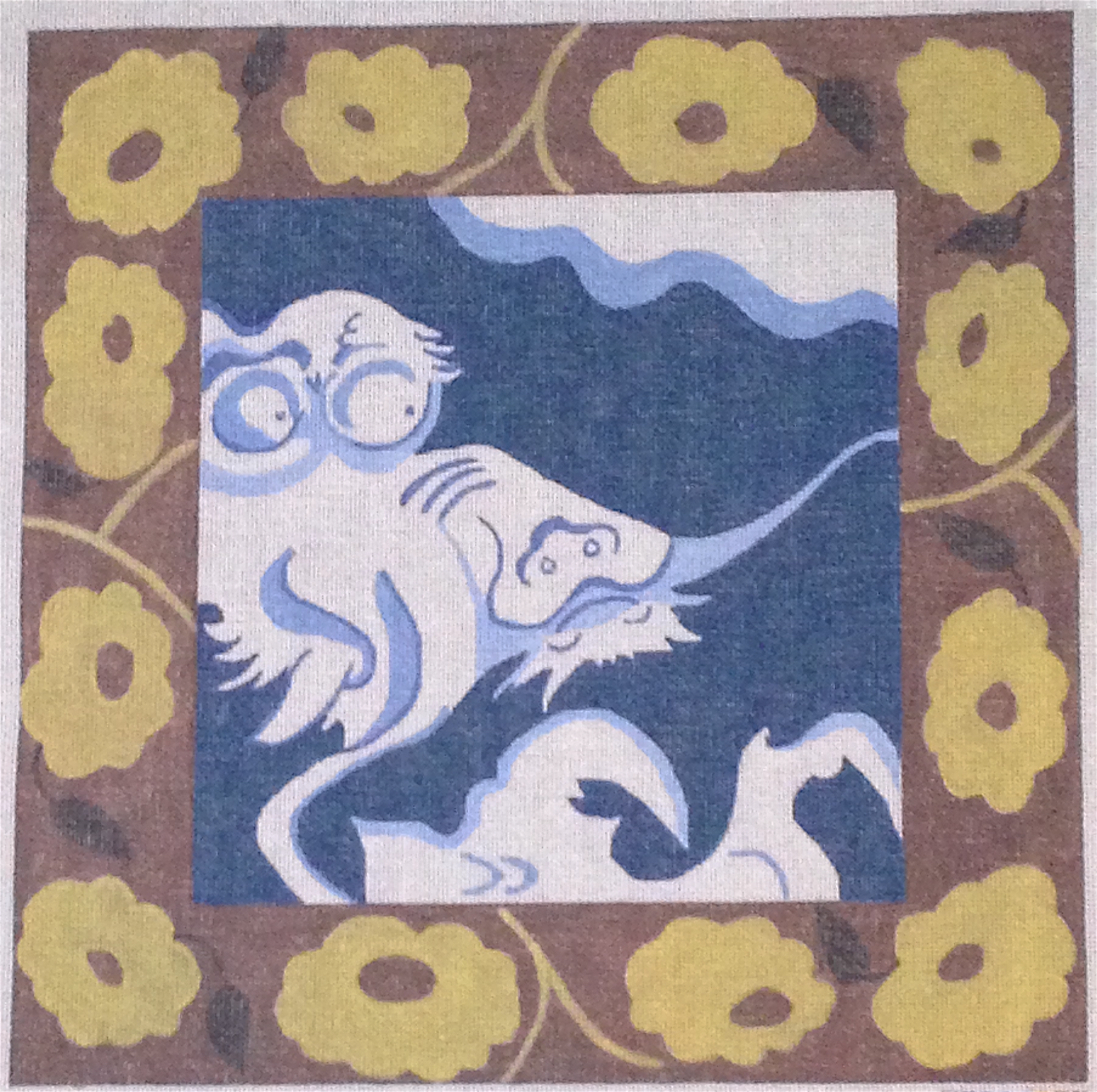 Dragons are symbols of energy and power as well as good luck. I like his googley eyes and fierce claws. Both silly and strong, isn't he just the guy you want to have your back?
---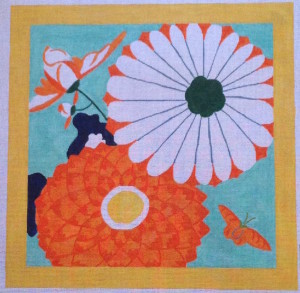 This is a mash up of some of my favorite flowers from Chinese pottery. Color never really goes in and out of style. It just shifts.
---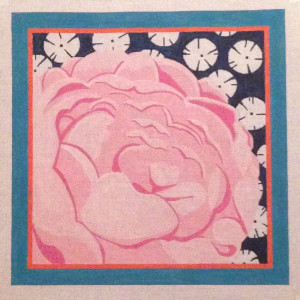 A few years ago I lived in a house with an old peony hedge.  It offered dozens of blooms indoors and out.  The depth of the blossoms and the headiness of their scent make them my favorite flower.  The peony here is paired with an old textile, though some people think it looks like sand dollars.  To each his own.
---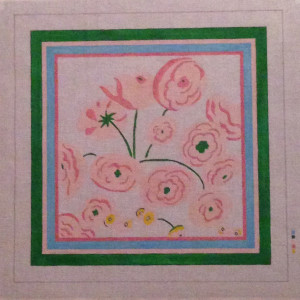 I have files and files of tear sheets from vintage magazines.  A particularly pretty vanity table from House & Garden inspired this feminine confection.
---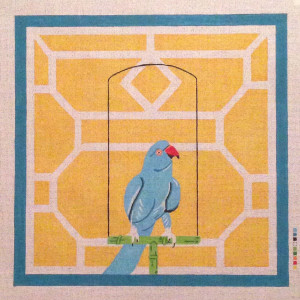 Every room in my house would contain fretwork if I didn't exhibit a little restraint.  The bird amuses me.
---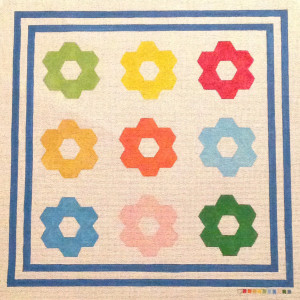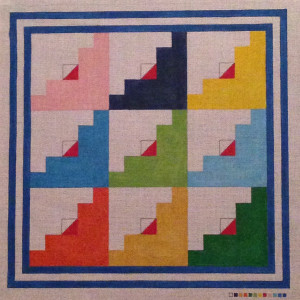 My father's mother made a quilt for each of her children when they married and for all her grandchildren. I cherish both mine and my parents', which I now have. While quilting may seem hokey to some, I appreciate all kinds of needlework for the time and care that goes into it. Relieved of the traditional calico designs, the patterns are often graphic and modern.
---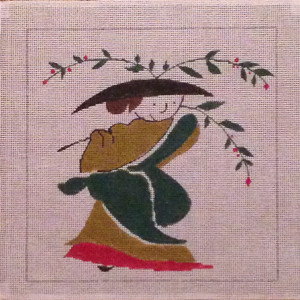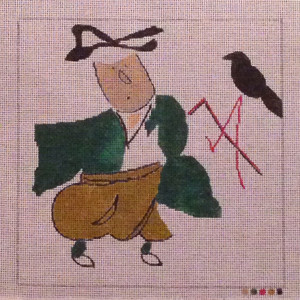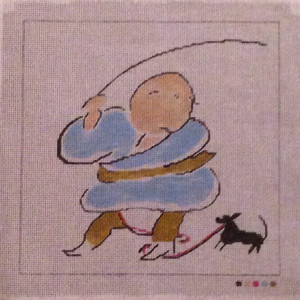 Japanese paintings inspired this trio. They remind me that art, and life, does not always need to be so serious.
---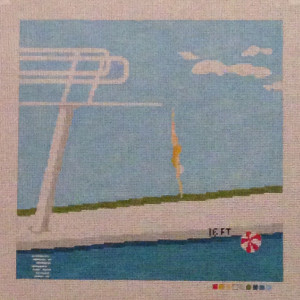 Not too long ago a friend suggested that a group of us make plans every year to jump off a high dive. He thought we did not dare enough in our daily lives. I don't love heights, and I hate to get to wet, but I decided if I were going to jump that I might as well dive. I did not regret it.
---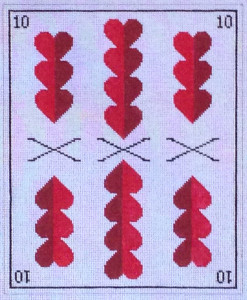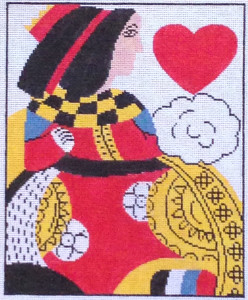 The late, legendary design editor, Diana Vreeland, had several needlepointed "card" pillows in her Garden in Hell living room. I've stitch one myself and think it's charming. I think they'd be perfectly swell finished as a clutch. It may be my next project.
---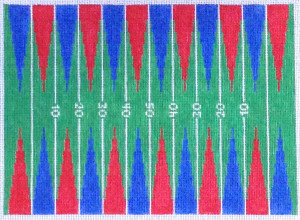 Everyone seems to want to do something other than tap on her phone. (Stitching being a good start.) This backgammon set is the perfect way to connect with children and adults as you pass the time in the airport, plane or kitchen. Boards come with Lucite checkers in coordinating colors and necessary dice.
---
If you are interested in purchasing these designs, please contact me at mrsb@mrsblandings.com. I will handle wholesale requests directly. For individual purchases, I'd be happy to direct you to the nearest retailer that carries my designs.