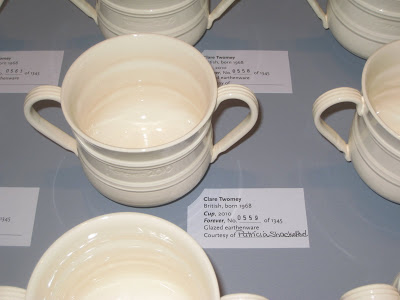 Seeped in Midwestern niceness, it seems too much to ask, so I have not filled out another request form. I have a little fantasy that at the end of the exhibit they will have just one left and I would actually be doing them a favor by offering to take it "forever."
As Emily filled out her form I overheard a woman, about my age, explaining to the staff person that her son would take her cup upon her passing and that he had agreed to keep the cup forever as well. He looked up nodding earnestly.
When I surveyed the troops, all 1,345 cups (representative of the number of pieces in the Burnap collection, from which the inspiration of the cup was taken) it was difficult to not be impressed with the size of the original gift, with the significance its donors gave it and their belief that the collection would have value in perpetuity.