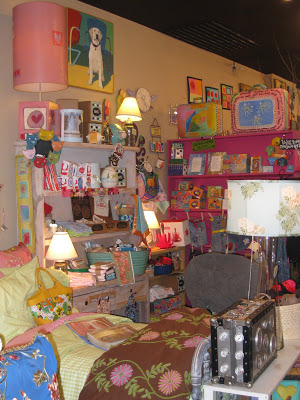 Ten years ago I walked into this little shop in Westport. Little. But loaded with the most amazing stuff. The store, which is actually named "Stuff," is full of color and art and laughter. I talked to the woman behind the counter. She and her sister had opened the store together, were following a dream, and were crossing their collective fingers that they remained friends.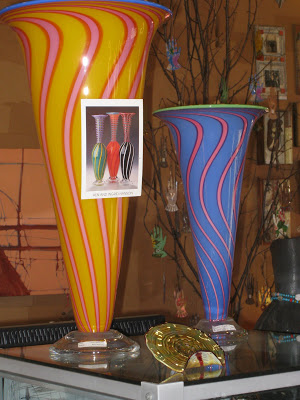 Success.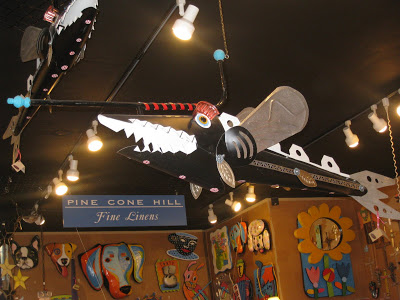 Stuff
is the kind of place that has its own soul; Sloane and Casey Simmons gave it life, and it needs them, but it has a heart all its own. Each trip is a treasure hunt. Stuff moved to Brookside, grew a lot, but never got too big for its britches.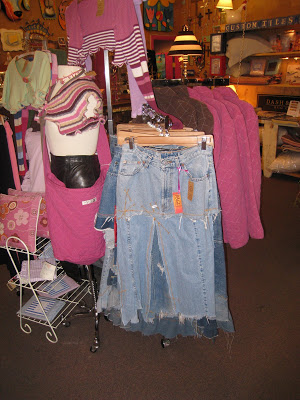 RAGZ by Tisa Ofield Reynolds.
The funny thing is, down the road a bit from that first visit, Sloane and I became friends. Our sons, my oldest and her only, toddled off to their first day of school together, in the same place. And, as all mothers do, we looked around to see who we were stuck with for the next eleven years. We had no idea how lucky we were. It's a great class of kids and parents and not for one minute have we been stuck. We've bonded.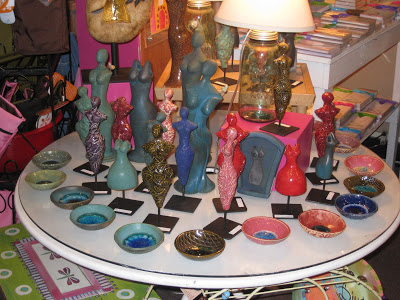 Another one of the moms from the class of 2011 is a breast cancer survivor. About nine years ago, Susan Henke Miller was diagnosed with breast cancer as the mother of two very young daughters. It's the kind of story that terrifies any young mother, but Susan is here to tell it herself, which makes it something of a triumph.
Every year Sloane and Casey and Susan team up to host a great event to benefit the Susan Henke Miller Breast Cancer Research Fund. And if anyone can put the "fun" in fundraiser its Sloane and Casey.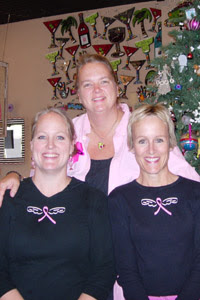 Sloane, Casey and Susan.
This year's Wings of Hope event is November 10th and 11th.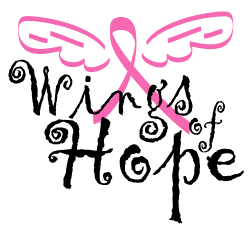 Food, fun, raffles, artists and book signings. As you can see, Stuff, like me, is a great believer in "more is more." Along with all the regular great stuff, the store will be chocked-full and sparkly with the holiday stuff. Ten percent of Stuff's sales on these days will benefit Susan's fund. One hundred percent of the $1 raffle ticket sales do, too, and you have a chance to win a $500 gift certificate! Bingo. Good for breast cancer research; good for you. There's so much great stuff going on at Stuff you need to check the website to see it all.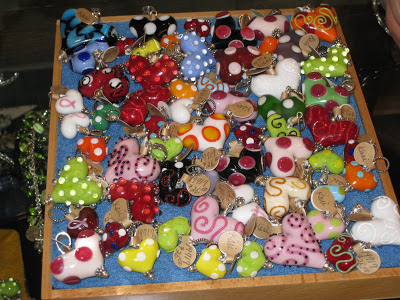 Heart charms by Kari Heybrock; like all good things girlie, beautiful and practically indestructible.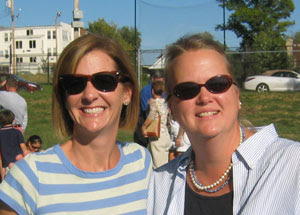 Me and Sloane. She posted this picture of us on her blog. Which is mean, because, it's the one school fundraiser, Family Fun Fest, that I loathe. Only people like Sloane make it bearable. This might be the only time I smiled the whole afternoon. She can always make me laugh.