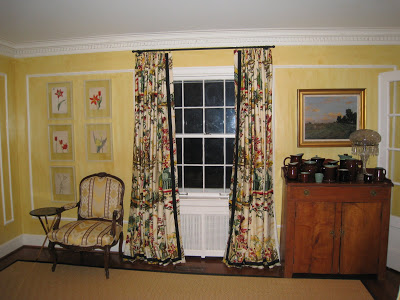 Courtney had a fun post this week inspired by Thom Filicia's show Dress My Nest. On the show, Filicia has his clients pick three personal things that best tell their story and three favorite articles of clothing. If you check out Courtney's picks, you'll feel you know a lot about her. I thought the game was fun, so I'm playing along. Or I'm copying. Depends on how you look at it.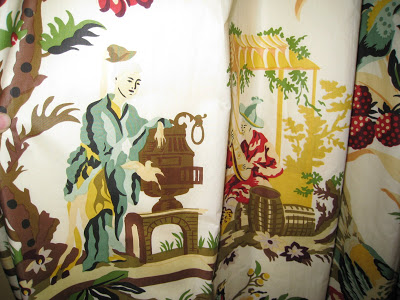 My first choice is Brunschwig & Fils Le Lac. A glazed cotton chintz chocked full of birds and urns and berries.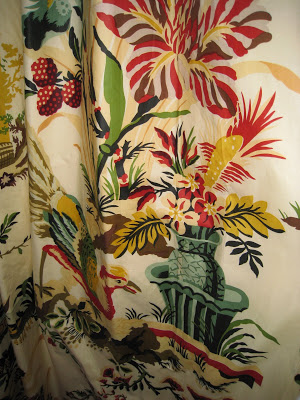 I hate to go on, but I love it. I have a huge remnant as the repeat is something ridiculous like 88″. I've often thought of making a skirt or a light weight 3/4 length coat out of it. Big black buttons. Which would make Thom's job easier because then it would be on the thing list and the clothes list.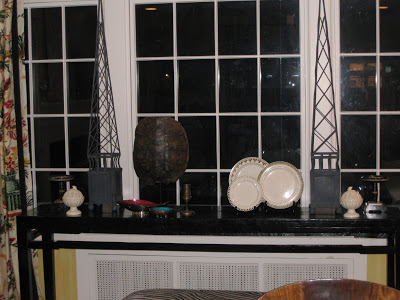 The Christmas compotes would be next. I know they're new and you are thinking I'm so enamored because it's the beginning of the relationship. But I truly think this is the first thing to come into the dream house that reflects my new-found awareness of my attraction to all things sculptural. I think the compotes and I are in it for the long haul.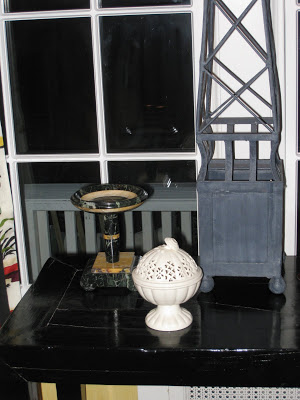 Which brings us to the beads. I have a lot of beads. I've loved jewelry as long as I can remember. I don't actually wear many necklaces. Just beads. These were a gift from Mr. Blandings.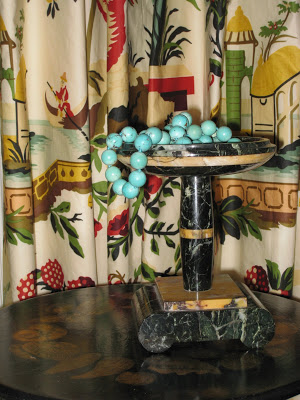 When we were dating a life long friend of his became a friend of mine. She and her mother threw a bridal shower for me when we became engaged. The mother and daughter are very different, but they are the two best kinds of women. Both are gracious and lovely and would not consider not sending you a thank you note if they were entertained in your home. Ever. My friend is tall and bold and friendly and funny. She says what she thinks and makes me laugh until I have tears in my eyes. Her mother is quiet and elegant and slight and always makes me feel like she is genuinely glad to see me.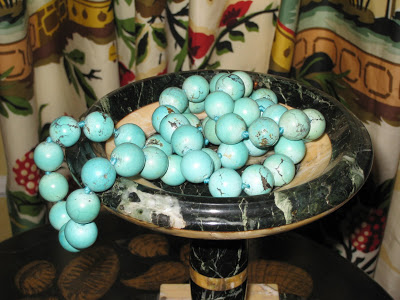 At the shower, which was all things girlie as bridal showers should be, my friend's mother wore a string of Chinese turquoise beads like nothing I had ever seen. As large as shooter marbles and doubled over – they would have reached her waist if they'd been worn straight.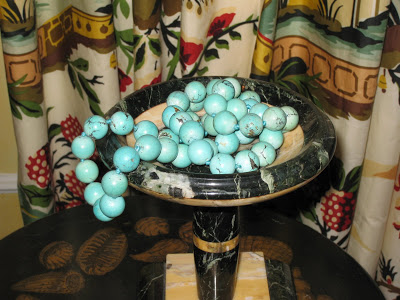 I did not need to go looking through pictures to remember these beads even though the shower was sixteen years ago. They are forever seared in my mind as something so right. Mr. Blandings gave me mine for my thirtieth birthday and I treasure them. While my strand is smaller than its inspiration, it can still make that bone at the base of my neck ache a bit if I've had them on too long. I can't imagine the weight of the original strand nor how it must weigh on the slim neck it adorns. You'd never know. Head up, shoulders back. Pure grace. If I could copy that, I would.